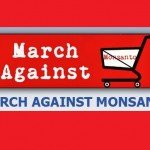 (NaturalHealth365) Ready for this year's March Against Monsanto? Mark your calendar for this Saturday, May 23 where millions are expected to gather worldwide again to march against Monsanto, elevating awareness to promote GMO labeling and GMO free food safety.
This year, the message of March Against Monsanto is simple and clear: "Monsanto makes us sick."
Monsanto, the St. Louis based agro-chemical monopoly – which owns patents on genetically modified seeds – controls the research patents, assures the public their seeds are safe for consumption, but who refuses to commit to GMO labeling will come under scrutiny in protests worldwide. Organized events will be held not only to protest against Monsanto, but to educate the public and consumers on all facets of GMO dangers, GMO free foods and to teach the public how to organize and effect change in their local and national food systems.
The public needs to hear the truth about our food supply
This year people will be fired up and eager to discuss how the World Health Organization just announced glyphosate, the main ingredient in Monsanto's herbicide, Roundup is a "probable" human carcinogen. Countless, well-documented studies have observed glyphosate's devastating effects on cellular activity.
Glyphosate poison has been shown to alter normal breast cell activity as well as negatively impact lymphocyte activity. The company's CEO, more concerned about the cost of each quarter's shares was cavalierly quoted saying that the recent announcement was "unfortunate noise" and that he doubted the findings would affect the company's sales of the dangerous chemical. Roundup currently accounts for 1/3 of Monsanto's annual revenue.
Where many studies rely solely on extrapolating from animal research, it's noteworthy that the World Health Organization reviewed people, animals and direct cellular data in combination before releasing their recent statement declaring glyphosate carcinogenic. To learn more about the devastating effects of glyphosate – look up the work of Stephanie Seneff, Ph.D. – it will blow your mind!
And, if how you'll vote for president in 2016 is influenced by your personal ethics surrounding food safety, you'll want to pay attention to the latest news on where presidential candidates stand on GMO labeling. For example, Hilary Clinton is fully supported by Monsanto – you think she is in favor of GMO labeling? (nope!)
New laws are being created to destroy human health
If you're not a fan of the government making decisions for you and you haven't briefed yourself on the 'Dark Act,' you'll want to learn about this legislation – before you march.
According to the Organic Consumers Association, The DARK Act:
"… is a bill intended to strip states of their right to pass GMO labeling laws. The bill is officially called the "Safe and Accurate Food Labeling Act." But we call it the Deny Americans the Right to Know (DARK) Act because it would stop GMO labeling laws in their tracks."
To get involved the Organic Consumers Association suggests:
Contact your representative
Find out if your Congress member serves on the House Committee of Agriculture
Find out if your Congress member serves on the House Energy and Commerce Committee
Find out of your Congress member is already a sponsor of the DARK Act (H.R. 1599)
To support this year's events, the Organic Consumers Association is offering complimentary, downloadable and printable information via their website – click here to learn more.
Do you want to know how to March Against Monsanto?
Look for an organized event in or near your city – visit: the March Against Monsanto guide and get involved today.
References:
https://www.ncbi.nlm.nih.gov/pmc/articles/PMC3945755
https://www.ncbi.nlm.nih.gov/pubmed/23756170
https://www.ncbi.nlm.nih.gov/pubmed/22331240
https://fortune.com/2015/04/01/roundup-cancer-monsanto