Canadian data show fully jabbed are super-spreaders of COVID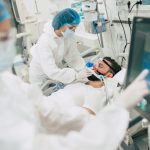 (NaturalHealth365)  Americans who have made the personal medical decision to decline the COVID shot are continually blamed by United States officials for the rising hospitalization rates.  But we must take these rates into context – and we must continue to look to other countries to observe pandemic trends.
In reality, many hospitals in the world are now finding that most of their COVID-positive patients have received their two mRNA COVID doses (and, in many cases, their booster shots).  It is the unvaxxed who are now becoming the minority.
Keep in mind, if an individual gets only one or two shots … they can be classified as "unvaxxed."  This only adds to the "confusion," since that one shot could be causing health issues.
Majority of people in Ontario hospitals with COVID-19 diagnosis are fully jabbed, according to most recent official provincial data
Official data from the Ontario government in Canada, updated as recently as January 14, 2022, reveal the following facts about hospitalizations in the province:
There are 185 fully vaxxed people in the intensive care unit (ICU) with COVID
There are 168 unvaxxed people in the ICU with COVID
There are 2,035 fully vaxxed people in the hospital with COVID (excluding the ICU)
There are 686 unvaxxed people in the hospital with COVID (excluding the ICU)
According to official data, nearly 90% of Ontarians aged 12 and up are "fully vaxxed," although many have worried the definition of fully vaxxed may change depending on if and when booster doses become mandatory.  Meanwhile, 8% of people in Ontario have chosen not to get vaccinated.
Many experts suspect that this shifting trend will soon be observed in other parts of the world, as well.
Mainstream Canadian news eager to share rising COVID hospitalization and ICU rates but appear to leave out critical detail
Perhaps it's not surprising that mainstream media in Canada is quick to report the rising hospitalization rates but completely fails to be forthcoming about who exactly is getting admitted.
In an article published on January 12, Canada's CBC reported that (as of January 12 data) more than 500 COVID-positive Ontario residents were in the ICU, and over 3,400 were in the hospital.
The article goes on to cite Ministry of Health data showing that "[o]f those hospitalized with COVID-19, 54 percent were admitted to hospital seeking treatment for COVID-19, while 45 percent were admitted for other reasons but have tested positive for the illness."  This is useful information to know and important to share.  However, what is noticeably missing from this article is any discussion of the vax status of these patients.
While the personal medical choices of individuals should not be publicly shared, knowing the overall vax status of COVID hospitalized patients is utterly relevant in these times, if only because the public has been told for over a year now that unvaxxed people are solely to blame for the ongoing pandemic.
But how can the unvaxxed shoulder all the blame when it's evident that fully jabbed folks can catch, spread, and get severely sick with the virus?
In the CBC article dated January 12, Alexandra Hilkene, a spokesperson for the Canadian Ministry of Health, said that the Ministry is now "evaluating whether there is a need to update reporting to distinguish between causal and incidental deaths related to COVID-19."
It is incredible that health officials are only now starting to "evaluate" whether they should clarify whether someone died from COVID or with COVID, which in its most recent iteration – the so-called Omicron variant – appears to be by and large nothing worse than the common cold.
Sources for this article include: