Latest coronavirus variant triggers "unjustified" travel bans, says South African health minister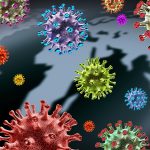 (NaturalHealth365)  No, it doesn't mean "moronic" – although if you jumble up the letters, that's exactly what the newest coronavirus variant spells out.  Following Alpha, Beta, Gamma, Delta variants, the Omicron variant (named for the 15th letter of the Greek alphabet) already has some folks worried that the COVID shot won't work against it.
Now, as the U.S. Centers for Disease Control and Prevention (CDC) urge American adults to get their booster shot, officials in the United States and elsewhere are implementing what has been called an "unjustified" ban on travel to and from areas where the variant was believed to originate.
BREAKING: U.S. bans travel to and from certain African countries following reports of newest COVID variant Omicron
The World Health Organization (WHO) recently identified the latest coronavirus "variant of concern" as the Omicron variant, or B.1.1.529.  Reportedly detected for the first time in South Africa, cases have also been confirmed in Botswana, Belgium, Israel, the United Kingdom, and Hong Kong.  And on November 27, 2021, after wavering for a few days, the United States announced that it would be joining the European Union in banning travel from certain African countries.
Dr. Fauci himself was quoted on November 27 on NBC News saying that he "would not be surprised" if the variant was already circulating in the U.S. He added that the new variant could evade protection from the COVID shot as well as COVID treatments like monoclonal antibodies.
But, the travel bans to certain African countries have been met with plenty of criticism.  For example, the South African Health Minister Joe Phaahla said that new travel restrictions are "unjustified" and stated that he believes these bans represent a "kind of knee-jerk reaction" that "really doesn't make sense."
There certainly are plenty of other things that haven't made sense during this pandemic, including the claim from the U.S. President that this is a "pandemic of the unjabbed." Just consider this:
According to the president of Botswana, all four of the people from Botswana who were first identified with the Omicron variant were fully vaxxed.  Yet, we continue to see the mainstream media in the U.S. ignore the failures of the current COVID shot campaign.  Bottom line: it's not working!
New COVID variant revealed to have dozens of mutations that affect the virus's spike protein
This new coronavirus variant is supposed to be "heavily mutated," according to a November 25 article published on Nature. "Many of the changes," the article continues, "have [also] been found in variants such as Delta and Alpha, and are linked to heightened infectivity and the ability to evade infection-blocking antibodies."
The Africa Centres for Disease Control and Prevention also says this new Omicron variant "displays multiple mutations across the virus genome, including more than 30 in the region which encodes the spike protein responsible for virus entry into host cells."
In solidarity with South Africa's health minister, the Africa CDC "strongly discourages the imposition of a travel ban for people originating from countries that have reported this variant."
"We have observed," the agency continues on their website, "that imposing bans on travelers from countries where a new variant is reported has not yielded a meaningful outcome." Instead, they encourage public health and social measures like mask-wearing, physical distancing, and hand washing.
Africa CDC also adds that "COVID-19 vaccines remain a key tool to prevent severe cases and deaths from COVID-19 infection."
Read that last sentence again.  Do you remember when we were told early in the pandemic that these injections would prevent transmission?  Notice how easy it is for officials to subtly change the language to ensure that reality continues to fit the pro-jab agenda?
Do you remember how unvaxxed people were (and continue to be) shamed and told they were killing people, even though we now know that fully jabbed folks can get and spread this disease, too?  Do you notice how virtually none of our public health officials are seriously talking about the importance of lifestyle strategies like exercise, diet, and weight loss – but instead urge people to turn to Big Pharma?
Sources for this article include:
Nature.com
WHO.int
NBCnews.com
CNBC.com
TheGatewayPundit.com