6 surprising benefits of eating onions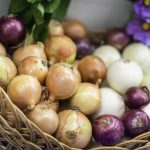 (NaturalHealth365) There's a reason you need to get your daily servings of veggies. They're packed with nutrients essential to your health, and every vegetable has its own unique properties and benefits.  For example, onions – which are in the same family as chives, garlic, and shallots – are well-known for making you cry when you chop them.  But, there's a lot more to these flavorful, and sometimes tear-inducing, veggies.
A closer look at this superfood finds that the nutrients in onions offer essential immune-boosting, inflammation-fighting, and antiviral properties. For centuries, people have used onions for their medicinal properties, and studies continue to back up the powerful health benefits of this superfood.
Why onions can improve heart health and help you avoid cancer cell growth
Onions pack in more than 25 different antioxidants, which help to inhibit oxidation – a process that can damage cells and contribute to many diseases. It's all the different antioxidants in onions that enable them to fight against heart disease and cancer.
When it comes to heart health, studies show that onions address multiple factors associated with improved heart health. Anthocyanins found in red onions have been proven to reduce the risk of a heart attack.  Other studies show that regularly consuming onion lowers some of the risk factors for heart disease, such as high triglycerides and inflammation.
The key compounds and chemicals found in onions can also help to prevent cancer, specifically liver and colon cancers. One meta-analysis concluded that individuals with a high intake of onions reduced their risk of colorectal cancer.
Researchers discovered that the bitter, pungent onions seem to have the most potent anticancer benefits, helping to prevent cancer and, in some cases, even slow the spread of the disease.
Additional health benefits of eating onions include:
Improved bone density: Eating onions may help reduce bone loss and boost bone density in perimenopausal and postmenopausal women. Studies show women who eat onions more frequently had a lower risk of bone fractures.
Blood sugar control: Especially helpful for individuals with prediabetes or diabetes, eating onions regularly helps control blood sugar levels.
Boosts digestive health: Onions offer an excellent source of prebiotics and fiber, and both are essential for good gut health. Eating foods that contain prebiotics helps increase the probiotics present in your digestive system, giving your digestive health a boost.
Easy ways to get more of this POWERFUL superfood into your diet
Onions don't just have a powerful nutritional punch; they add plenty of flavor to many of your favorite dishes, too. Get more onions in your diet, and you'll boost your intake of essential vitamins, minerals, and fiber.
A few easy ways you can eat more onions to reap the health benefits include:
Adding cooked onions to other veggies for delicious side dishes
Use raw (chopped) onions in guacamole
Add raw onions to salads
Sauté onions and top your favorite protein with them
Use onions along with garlic as a base for your soups and stocks
Top your Mexican dishes like tacos with raw onions
Toss onions into your favorite stir fry dish
Sources for this article include: