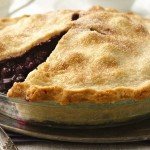 (NaturalHealth365) The benefits of organic food versus conventional became painfully obvious once again when a young girl had a severe allergic reaction to a piece of blueberry pie, leaving family and physicians wondering what went wrong. The reaction, documented in Annals of Allergy, Asthma and Immunology, the scientific journal of the American College of Allergy, Asthma and Immunology (ACAAI), came as a surprise because the child did not have a medical history of allergies to any of the ingredients used to make the pie.
She did, however, have a medical history of asthma and seasonal allergies, as well as a severe reaction to cow's milk and penicillin, the latter of which would be key to answering the question of what caused such a serious, life-threatening reaction.
Don't overlook the hidden danger inside most fruits and vegetables
Most consumers know the majority of non-organic fruits and vegetables are loaded with pesticides, some of which are known to enter the human body upon consumption, despite scrubbing of the fruit's exterior prior to eating. But most would also think of pesticides in terms of insecticides and herbicides only, and would be surprised to learn that in addition to these chemicals, antibiotics are used routinely to stop bacterial growth in fruit, such as blueberries.
As noted in the scientific journal, the girl's reaction was traced not to any of the ingredients used to make the blueberry pie, but to the antibiotics that the fruit was exposed to as part of efforts utilizing pesticides to slow damage to the berries by bacteria. Her known intolerance to penicillin had caused an equally life-threatening reaction to the traces of antibiotics on the blueberries.
Searching for an answer, scientists tested both the girl and the pie. Their analysis of the blueberries in the pie revealed they contained traces of streptomycin, an antibiotic that is also used as a pesticide and the identified source of the girl's allergic reaction.
While the authors of the journal's article noted that the allergic reaction was the first of its type to have occurred to their knowledge, the incident opens the door for a host of additional concerns over fruits treated with antibiotic pesticides to restrict growth of bacteria, fungi and algae. I hope farmers will read this and take the appropriate action needed to protect the public.
United States farming practices are putting lives at risk
While European countries restrict the use of antibiotics in agriculture production, regulations are much less restrictive in the U.S. and Canada. The looser regulations are despite the fact that the overuse of antibiotics has long been identified as a serious concern due to the threat of antibiotic-resistant bacteria.
The issue is that over-exposure to antibiotics in the environment will lead to the evolution of bacteria becoming resistant to medications known to be effective in treating a host of bacterial infections, including life-threatening diseases.
To date, this concern has primarily focused on over-prescribed antibiotics and the use of antibiotics in livestock production. But the spotlight is slowly being turned onto antibiotics that are being used as pesticides by produce growers. While antibiotic resistance is a long-term hazard of using pesticides, the scientific article documenting the girl's reaction to blueberry pie sheds light on a threat with even more immediate consequences: allergic reaction to antibiotics used as pesticides.
Simply put, the use of antibiotics as pesticides means an additional avenue for antibiotics to enter the environment in a consistent manner.
While the U.S. Environmental Protection Agency, in 2006, conducted a study of the use of antibiotics as pesticides and concluded that "combined residues of streptomycin from food, drinking water and residential exposures will not result in an aggregate risk of concern to any population subgroup," this recent documented allergic reaction tells consumers otherwise.
This information requires massive action to protect our health
To avoid potential life-threatening allergic reactions to antibiotics used in the foods your family eats, choose only organic fruits and vegetables – whenever possible. In addition, you can look for locally-grown (chemical free) fruits and veggies – even if they are not technically called, 'organic.'  And, of course, the best way to enjoy 'food security' is to grow your own food.
Remember, it's not enough to rely on just scrubbing and cleaning conventional produce – because there is still a threat of contamination. Another added layer of protection – if you feel you are being exposed to too many toxins from your food (or environment) – is to take vitamin C, spirulina or other high-quality nutritional supplements, which will protect you from harmful toxins. Obviously, reducing your toxic burden and increasing your intake of antioxidants can help you avoid years of pain and suffering.
References:
https://www.medicaldaily.com/antibiotic-pesticide-residue-food-may-cause-severe-allergies-fruit-contaminated-300926
https://www.medicalnewstoday.com/articles/281987.php