NH365 128: Immune system boosters – Avoiding chronic disease naturally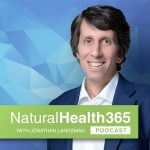 (NaturalHealth365) As I often say, your best defense against today's (and tomorrow's) global health threats is a strong immune system. Yet, too many people remain uninformed about the best ways to prevent illness and defeat diseases like autoimmune disorders, cancer, heart disease and the looming threat of "superbugs" – which are on pace to be MORE deadly than any other health condition.
Bottom line: it's time to give the immune system what it really needs to protect our health! Scientifically speaking, we know what it takes to stay healthy and strong. Unfortunately, conventional medicine is fully controlled by the pharmaceutical industry. And, that model of sick care doesn't allow for enough discussion between patient and doctor about how to stay healthy and avoid the need for toxic medications.
Improving your immune system is easier than you think
Today, on the NaturalHealth365 Podcast, we'll reveal the best immune system definition you've ever heard. Not only that, you'll learn about the "immune system response" and what that means for your health.
We'll also talk about delayed hypersensitivities … the best immune system boosters for a healthy life plus much more.
Enjoy the show!
Links related to the show:
For more information about Russell Jaffe, MD, Ph – Get this complimentary "Alkaline Way Guide" download today.
Do NOT ignore the health dangers linked to toxic indoor air. These chemicals - the 'off-gassing' of paints, mattresses, carpets and other home/office building materials - increase your risk of headaches, dementia, heart disease and cancer.
Get the BEST indoor air purification system - at the LOWEST price, exclusively for NaturalHealth365 readers. I, personally use this system in my home AND office. Click HERE to order now - before the sale ends.
If you're not a NaturalHealth365 newsletter subscriber – visit: NaturalHealth365.com and sign up today.
Podcast highlights include:
Why we need to "rethink health?"
What an "immune response" mean
Revealing look at what "delayed hypersensitivities" mean for our health
How we develop delayed hypersensitivities and how to avoid them
Best strategies for improving the immune system
The "Alkaline Way" lifestyle + much more
About Russell Jaffe, MD, PhD, CCN
Dr. Jaffe received his BS, MD and PhD from the Boston University School of Medicine in 1972. He completed residency training in clinical chemistry at the National Institutes of Health (1973 – 1976), remaining on the permanent senior staff until 1979. He is board certified in Clinical Pathology and in Chemical Pathology.
As a physician and scientist who aspired to be comprehensive, objective, empiric and experiential, Dr. Jaffe started his career searching for deeper understanding, wisdom, evidence and insight in mechanisms of health. Through intense curiosity and learned skepticism, Dr. Jaffe sought to debunk the best-known advocates of a variety of health promotion and healing systems. What started as a journey to disprove holistic forms of care became a rich educational experience that transformed Dr. Jaffe into a student and then researcher in such areas a Traditional Chinese Medicine, acupuncture, active meditation, homeopathy, and manipulative arts.
Motivated by his personal transition, Dr. Jaffe went on to reinvent himself professionally by starting the Health Studies Collegium, a think tank that focuses on sustainable solutions to global health needs, with his fellow colleagues. For the last 30 years, Dr. Jaffe has advocated a system that treats people not diagnoses, cause not consequence, and promotes long term sustainable solutions as an alternative to a system dominated by prescriptive, symptom suppressive solutions. Dr. Jaffe's cumulative experiences enabled him to take his efforts one step further and build PERQUE Integrative Health, a company that offers the world scientifically proven, integrative health solutions that speed the transition from sick care to healthful caring.
Dr. Jaffe's practical contributions to clinical medicine and to healthcare policy focus on functional, predictive tests and procedures designed to improve the precision of both diagnosis and of treatment outcomes; he has authored nearly 100 articles on the subject.
Examples of his contributions to molecular biology and clinical diagnostics include:
Early colon cancer detection tests
Predictive tests of cardiovascular health and function based on changes in blood clotting and systemic repair status
Quantification of the number of concurrent platelet binding sites needed for collagen to activate platelet-induced blood clotting
Identification of the mechanism that controls collagen activation of platelets
Antigen ultra-purification for use in high sensitivity immunology assays
Mechanism of connective tissue cross-link inhibition by d-penicillamine
Predictive tests of immune function and hypersensitivity / delayed allergy
Predictive tests of nutritional / metabolic function
Honored as an International Scientist of 2003 by the IBC, Oxford, England, UK for his lifetime contributions to clinical medicine, biochemistry, immunology, methodology, and integrative health policy, Dr. Jaffe is appreciative of the recognition of his peers. He currently serves on the American Board of Clinical Metal Toxicology and coordinates its certification training program. America's Top Physicians 2005, Who's Who in America; Who's Who in Medicine and Science; Who's Who in Business and Engineering all have included him in recognition of his contributions to science and community.
Dr. Jaffe is the recipient of the Merck, Sharp & Dohm Excellence in Research Award, the J.D. Lane Award, and the U.S.P.H.S. Meritorious Service Award. He teaches and lectures widely on nutritional immunology and treatment guidelines for chronic autoimmune and immune dysfunction syndromes and has helped elucidate the causes and consequences of immune defense and repair functions in health and disease.