Stunning statin drug results linked to your risk of death revealed by cardiologist will SHOCK most cardiovascular patients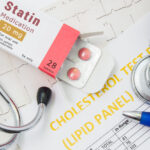 (NaturalHealth365)  Statins (aka HMG-CoA reductase inhibitors) are a group of drugs used to lower cholesterol, and boy, are they popular in the Western healthcare model!  Consistently ranked among the top ten most-prescribed drugs in the United States – along with other highly profitable drugs used to control lifestyle-related conditions like high blood pressure, diabetes, and heartburn – the global statins market reached a whopping $14.9 billion last year and is expected to exceed $18.1 billion by 2028.
As you may know, statins come with plenty of controversy.  Over the past several decades, many opinion articles and peer-reviewed papers have been published regarding concerns such as overprescribing, harsh side effects, and the fact that the benefits vs. risks of statin drugs "[vary] considerably by age, sex, and statin type," according to one January 2019 study published in Annals of Internal Medicine.  (Frustrating then, isn't it – that despite how much individual factors influence the necessity of a drug, Big Pharma and mainstream media outlets push the narrative of drugs being "safe and effective" for everyone.)
And in a recent interview on the popular podcast The Joe Rogan Experience, one cardiologist shares some shocking insights into the true dangers of this medication.
"Public health scandal:" Renowned British cardiologist sounds off on overprescribing of cholesterol-lowering drug, underreporting of side effects
Branded "controversial" by the most used search engines, Dr. Aseem Malhotra is a British cardiologist who is well-known for championing the fight against excess sugar consumption and overprescribing of medications – not the least of which is the overprescription of statins.
Sharing a clip of his recent interview with Joe Rogan, where he discussed his professional insights in detail, Dr. Malhotra recently wrote on Twitter: "The lack of transparency in the prescription of [cholesterol-lowering] statin drugs in relation to side effects is a public health scandal."  This rings especially true when we consider that research shared by the cardiologist during the interview reveals that statins do NOT appear to have a meaningful protective effect against heart disease death rates … in part because the drug makes people feel so lousy that as many as 50 percent of patients prescribed them stop taking them!
Dr. Malhotra also explains why statin side effects have been historically underreported in the literature.  Referring to a process called a "pre-randomization running period," Dr. Malhotra notes that participants were often enrolled before the trials officially started – and any participants who had side effects were excluded from the remainder of the trial.  "The end result of those trials," Dr. Malhotra says to a shocked Joe Rogan, "is therefore biased toward people who didn't get side effects."
For more information, watch a clip from the interview below:
These are the side effects of statin drugs that conventional healthcare providers don't like to talk about
Informed medical consent requires that prescribing physicians ensure their patients understand the potential benefits and risks of the drugs or treatments they agree to take – otherwise, how could someone consent to an intervention if they don't fully understand it?
With that in mind, here are some of the most well-known harsh side effects of statin drugs that everybody should be aware of:
Muscle pain, spasms, and aches
Severe muscle damage known as rhabdomyolysis
Liver damage
Diarrhea
Nausea
Insomnia
Increased blood sugar – which for many people results in the onset of type 2 diabetes
Memory loss and confusion
Ask yourself: would you take a drug if you knew that the risks likely outweighed the benefits?  Have millions of people around the world currently taken statins been offered the same opportunity to make that informed decision for themselves?  Clearly, the answer to both questions would be "no."
To discover the best heart health strategies, own the Cardiovascular Docu-Class, presented by Jonathan Landsman and featuring many of the top integrative healthcare providers in the world.
Sources for this article include:
Medlineplus.gov
Drugs.com
NIH.gov
Medicalnewstoday.com
Researchandmarkets.com
ACPjournals.org
Mayoclinic.org