NH365 015: The Earth Diet – A complete guide to natural living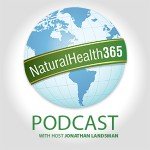 (NaturalHealth365) Over the years, we are seeing a dramatic rise in the popularity of natural living. Born out of a personal need to solve serious health issues, more and more people are turning to "The Earth Diet" for help.
Today, on the NaturalHealth365 Podcast, Jonathan Landsman talks to the creator of The Earth Diet – Liana Werner-Gray about her natural living approach – which can help eliminate food addictions, chronic fatigue and the threat of cancer, to name just a few of the health benefits.
Links related to the show:
1. For more information about Liana Werner-Gray and The Earth Diet – visit: TheEarthDiet.com
2. Subscribe to the NaturalHealth365 newsletter to receive lots of great health gifts + the latest news and information on natural health solutions.
3. The NaturalHealth365 Store offers the highest quality nutritional supplements on the market to support healthy immune function and overall wellbeing.
Highlights of our show featuring: The Earth Diet
1. How to successfully eliminate food additions or "disorderly eating".
2. Learn how Liana naturally eliminated the threat of a lymphatic tumor.
3. Discover safe ways to detoxify the body with 'The Earth Diet'.
4. Find out why exercise is so important – especially when making changes to your diet.
5. Great holiday eating tips to help us enjoy the holiday season AND still stay healthy.
6. Liana talks about how she helped her mom to REVERSE breast cancer – without drugs – by using The Earth Diet and other natural living techniques.
What is The Earth Diet?
Basically, Liana designed this diet with 9 core principles in mind, as follows:
It is NOT about restriction – it is a natural lifestyle approach centered around delicious food and enjoyment.
The food is focused on what the Earth provides naturally, and challenges us to get back to nature.
Eat more local, seasonal and organic food.
This way of eating IS for everyone.
The goal is to nourish the body with nutrition – every day.
Eat less or no processed foods.
If you go off track, don't worry – come back when you are ready.
You CAN eat your absolute favorite foods.
There is a more natural way to do everything from skin care, household cleaning and detoxification techniques.
Who is Liana Werner-Gray?
Beauty queen Miss Earth Australia Liana Werner-Gray got a wake-up call at the age of 21, when she was diagnosed with a precancerous tumor in her throat. Realizing that health issues were holding her back, including in her entertainment career, she decided to change her lifestyle.
Through juicing and using the whole-food recipes shared in this book, Liana healed herself in only three months. This success inspired Liana to create the Earth Diet and make information on the incredible power of plant-based and natural food available to others.
She has since used her recipes to help thousands of people with cancer, diabetes, acne, addictions, obesity, and more.
Happy New Year! At the end of this podcast, Liana talks about 3 ways to supercharge your New year resolution plans. You'll find out how easy it is to increase your energy, boost immune function and lose those unwanted pounds – naturally. Enjoy the show!