Weed killer causes Parkinson's Disease, 600+ lawsuits allege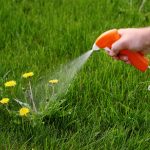 (NaturalHealth365)  The Chinese-owned agrochemical company – Syngenta – based in Switzerland, has been the subject of much scrutiny in recent years as the research has stacked up against it.  Numerous studies have found substantial links between its weed killer – paraquat – and Parkinson's disease – enough so that the company is facing massive litigation in federal court as more than 600 lawsuits call the company to the carpet for being fully aware of the product's dangers and marketing it anyway.
Syngenta is not the first chemical company sued for selling toxic products.  What's happening in the agrochemical industry?  How many people have been harmed by these deadly products?
History repeats itself: Chemical companies knowingly market products that harm humans
Just a few short years ago, another mega agro-company, Monsanto, was in the hot seat.  The invincible giant wasn't so invincible; it seems after allegations were made that its glyphosate weed killer caused cancer, Monsanto actively hid those risks from the public.
Justice prevailed, and Monsanto lost.  And that loss was followed by multiple others, leading Bayer AG, owner of Monsanto, to pay a settlement of more than $11 billion for cancer claims.  And the legal battle still rages as Bayer juggles lawyers, angry public, and angry investors, as well as plans to remove Roundup and other glyphosate-based herbicides and products from the consumer market in the US.
Syngenta seems to be following Monsanto's footsteps with its own weed killer that endangers human health.
Syngenta receives legal backlash
With more than 600 lawsuits looming over Syngenta, top executives are being deposed, and some hard questions are being asked.  Some of the key players questioned include:
Philip Botham, Principal Science Advisor, Syngenta Product Safety Group
Montague Dixon, U.S. Regulatory Portfolio Lead, Herbicides Regulatory, and Stewardship North America
Clark Ouzts, Product Marketing Lead, Syngenta
Clive, Campbell, Chief Medical Officer, Syngenta
Shouldn't these people know better?
The attorneys representing the plaintiffs seem to think so as they ask hard-hitting questions like:
What efforts, if any, has Syngenta taken to identify safety concerns regarding paraquat?
What is the depth of knowledge that these key players for Syngenta have regarding specific studies on paraquat?
What policies and procedures does Syngenta have in place for complaints or adverse health effects reported by product users?
What are the safety procedures that Syngenta employs during the manufacturing process?
What knowledge does Syngenta have of alternative chemicals?
What are the breadth, scope, and content of marketing campaigns that Syngenta used about and related to paraquat?
Many of the people suing the company developed Parkinson's disease after working in environments where they were exposed to paraquat.  This includes ranches, schools, farms, and jobs for municipalities.
Parkinson's Disease: A life sentence with no cure
What makes this all so devastating is the fact that Parkinson's is currently incurable.  It attacks the nervous system, causing tremors, mobility problems, gait issues, and loss of balance.  These effects get increasingly worse as the disease progresses, and the victims are often severely debilitated until death.
Study after study has shown the link between Parkinson's and paraquat, yet Syngenta continues to deny those claims.  The almighty dollar may be a little more valuable than human life for this company.
Sources for this article include: