Commercial airline pilots sue CDC over federal mask mandate, calling it "illegal and unconstitutional"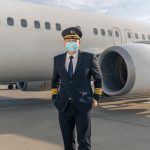 (NaturalHealth365)  COVID-19 lawsuits are piling up.  The latest addition: American, Jetblue and Southwest airline pilots are fed up with the federal mask mandate and taking action, legally!
Now, they're letting the U.S. Centers for Disease Control and Prevention (CDC) hear their frustration loud and clear.
Standing their ground (even from the air): Airline pilots make a move to sue the CDC
According to court documents, ten commercial airline pilots representing American Airlines, JetBlue, and Southwest Airlines, have sued the CDC over the agency's insistence on maintaining a mask mandate for airline employees and passengers.
The CDC order, called "Requirement for Persons to Wear Masks While on Conveyances & at Transportation Hubs," is what the airplane pilots call an "illegal and unconstitutional exercise of executive authority."  In their court filings, they argue that despite "countless scientific and medical studies and articles showing that face masks are totally ineffective," the Transportation Security Administration (TSA) has continued to extend the airline mask mandate repeatedly ever since it first went into effect on February 1, 2021.
The mask mandate was initially supposed to expire almost a year ago but is currently in effect until at least April 18, 2022.  The pilots say such measures have been made with virtually no consideration for the millions of people who travel or work in the travel industry every day in the United States.
According to the pilots, the CDC's and TSA mask mandate "was rushed."  The CDC failed to give airline passengers and employees the "legally guaranteed option under the Food, Drug, & Cosmetic Act to refuse to use a medical device (face mask) not approved by [FDA] or allowed only under an Emergency Use Authorization."
Do NOT ignore the health dangers linked to toxic indoor air. These chemicals - the 'off-gassing' of paints, mattresses, carpets and other home/office building materials - increase your risk of nasal congestion, fatigue, poor sleep, skin issues plus many other health issues.
Get the BEST indoor air purification system - at the LOWEST price, exclusively for NaturalHealth365 readers. I, personally use this system in my home AND office. Click HERE to order now - before the sale ends.
It should be noted that airplane travel has generally been considered a "low risk" activity when it comes to getting infected with SARS-CoV-2, in part due to the air filtration and purification that is constantly going on inside the cabins.
This is one of the unexamined dangers of masks that the pilots are concerned about
Aside from the obvious overreach from the federal government, the pilots have another major concern about the continued forced masking of their passengers and fellow airline employees.
According to Fox News, the Federal Aviation (FAA) has received increased numbers of reports of "unruly" passengers – almost 900 so far in 2022 alone, with well over half (587) of them related to masks.  In 2021, 4,290 of the 5,981 unruly passenger reports were mask-related.  While the FAA has imposed fines on such unruly passengers, the pilots remark that the number of assaults, threats, and other acts of intimidation or interference against airline personnel has been a serious concern for the safety of employees and passengers alike.
As of now, the U.S. government continues to mandate the use of masks on other forms of public transportation, too, including buses, trains, subways, and ferries.  According to the U.S. Department of Transportation, this includes rideshares like Uber or Lyft and military transport vehicles and will remain in effect "as determined by the CDC."
But remember: you're free to take your mask off when you want a snack – apparently, the virus magically can't infect you when you're eating or drinking.  Anyone who can think critically can see through this charade and realize this was never about health or science.
The question remains, how much longer will people follow these senseless (unscientific) rules?
Sources for this article include: