Who profits from COVID jab mandates and passports?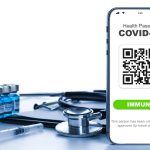 (NaturalHealth365)  Decent Americans trying to make a living and feed their families have been told to believe during this 2+ year-long pandemic that an indoor mask mandate – in which you must wear a mask to walk to your restaurant table, but can magically take off your mask once you're sitting down – makes perfect, evidence-based sense.  Americans and other citizens from around the world have also been told that to participate in society, you have to prove that you've received one or more doses of an injection … even though the injection doesn't stop viral transmission.
At the same time, the idea of bodily autonomy, informed consent and logic have been thrown out the window!
But it seems now that global officials are starting to buckle to the pushback and protests (although they tend to cite downward trends and "changing science" as the reasons for backing off).  From places like Boston and New York to even Israel, the use of a so-called vax passport is being discontinued.  Which leaves us questioning in the wake of these illogical and discriminatory mandates: who stands to benefit from these mandates anyway, if (certainly) not private businesses and citizens?  And why are some employers in favor of them anyway, despite clear public dissent?
There's something fishy – but maybe not surprising – about large employers upholding COVID shot mandates
Here's what is more important than following the science during a global pandemic that has triggered the massive increase in profits and visibility for Big Pharma:
Following the money.
As reported by Children's Health Defense, a significant number of the large employers in America who decided to uphold the COVID vaccine mandate for their employees – despite the fact that the U.S. Supreme Court recently halted this insane overreach from the Biden administration – have ties to two of the world's largest asset managers, BlackRock and Vanguard (who manage a combined $15 trillion in assets).  BlackRock and Vanguard also happen to be major investors in all three key pharmaceutical companies responsible for the new and insanely profitable COVID shots – Pfizer, Moderna, and Johnson & Johnson.
Making sense yet?
BlackRock and Vanguard have significant ownership stakes in large American businesses, and they also happen to have significant ownership stakes in Big Pharma.  So, it's not hard to imagine how these asset managers could use their influence and powers to encourage their American businesses to demand that their employees use a product (the COVID shots) made by the very industry that BlackRock and Vanguard also heavily invest in.  Letting alone the financial conflict of interest for a moment, one can almost appreciate the genius of it.
Digital wallets, carbon footprint insights, and more – many feel unnerved by what the world's most powerful stockholders are backing
But it's not just the sales of the COVID shots themselves that BlackRock and Vanguard have a stake in.  Children's Health Defense reports that these asset managers "also have ownership stakes in technology companies developing vaccine passports and digital wallets."  Vanguard, BlackRock, and others are also investing in companies like Mastercard that are researching technology that can track individuals' carbon footprint and allocate "personal carbon allowances."
They're really covering all their bases, aren't they?
What do you think: Are these vax mandates for the benefit of employees and the greater community – or for the benefit of stockholders?
Sources for this article include:
Childrenshealthdefense.org
VOAnews.com
Bostonherald.com
Boston25news.com
CNN.com