Deadly dining? Frequent consumption of restaurant meals tied to risk of early death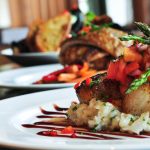 (NaturalHealth365) Would you like a free side order of heart disease with that Early Bird special?  Or, how about a complimentary "discount" that cuts the number of years you have left on earth?  While it might seem unfair to criticize the restaurant industry at this time in particular – when business owners and employees are trying to fight their way back from losses due to COVID-19 – troubling research spotlights the adverse health effects of dining out frequently.
According to a new study published in the Journal of the Academy of Nutrition and Dietetics, frequent dining out is linked with higher odds of developing life-threatening chronic diseases – and with a higher risk of death from all causes.  The researchers called the risk "significant," and urged further study.
Yes, eating out is easy and convenient, but it sure comes with severe adverse health effects, including premature death
The newly published study involved 35,084 adults who had participated in an earlier study – the National Health and Nutrition Examination Survey – which examined dietary habits of American adults in the years 1999 to 2014.  To conduct the study, investigators analyzed data from questionnaires, then conducted follow-up research linking that data to death records – with an eye towards all-cause mortality, heart disease mortality, and cancer mortality.  To ensure accurate results, the researchers adjusted for age, sex, ethnicity, socioeconomic status, weight, and dietary and lifestyle factors.
The health of participants who dined out "very frequently" (defined as having at least two meals a day that were prepared away from home) was compared to those who "seldom" dined out (defined as one meal a week, or less, in restaurants).
The results were eye-opening.
The team found that frequent diners had a 49 percent greater risk of dying from any cause than those who seldom dined out – with a 67 percent higher risk of developing cancer and an 18 percent higher risk of death from heart disease.
That's not all!  Frequent dining out is linked with increased risk of obesity and diabetes
Lead investigator Wei Bao, M.D., Ph.D., an assistant professor in the Department of Epidemiology at the College of Public Health at the University of Iowa, said other diseases as well were linked with frequent dining out.  "Emerging, although still limited, evidence suggests that eating out frequently is associated with increased risk of chronic diseases, such as obesity and diabetes," he reported.
Both obesity and diabetes are verging on epidemic proportions in the United States.  The Centers for Disease Control and Prevention reports that close to two-thirds of the adults in the nation are either overweight or obese, while over 34 million Americans currently have diabetes.
Dr. Bao suggested that future dietary guidelines could recommend reducing the consumption of restaurant meals while encouraging people to consider preparing more meals at home.  He added that people can also focus on making healthier selections from restaurant menus.
From super-sized portions to hidden ingredients … here is why restaurant foods increase your risk of multiple chronic diseases
It's not exactly a secret that restaurant foods often feature "hidden" calories, arising from ingredients added to enhance the flavor, color, or texture of foods.  (Sauces, gravies, dressings, and breading are notorious for concealing hidden calories.)  In addition, many restaurants offer super-sized portions of foods and beverages (think of the massive double-decker hamburgers and giant silos of sugary drinks from fast-food chains), leading people to eat and drink more than they would at home.
As a result, restaurant meals tend to be much higher in unhealthy ingredients – and lower in constituents essential to health, such as dietary fiber and antioxidant-rich fruits, vegetables, and whole grains.
Finally, many restaurant foods are cooked in pro-inflammatory soybean, corn, canola, and cottonseed oils – some of which are derived from GMO crops.
(Is it any surprise that researchers warn of the adverse health effects of dining out?)
Common-sense choices can cut the negative health impact of restaurant meals
In addition to avoiding fried and breaded foods, nutritionists advise steering clear of baked goods – such as garlic bread, croissants, and muffins – which can contain unhealthy ingredients.  And, certain "salads," such as chef salads and taco salads, can be loaded with undesirable fats, processed meats, and hidden calories.
When choosing soups, look for broth-based or tomato-based versions, or opt for miso soup, which is a probiotic food.  Of course, there is one warning: most miso – used commercially – is based on GMO soybeans … so be careful.
Choose salads that rely heavily on "superfoods" such as spinach, arugula, and romaine, and accent them with foods that contain healthy fats – such as avocados – and carotenoids, such as lycopene-rich tomatoes.  For healthy side orders, choose steamed, roasted, or grilled vegetables from the super-healthy family of cruciferous vegetables, such as Brussels sprouts, asparagus, and broccoli.
For entrees, most nutritionists will suggest grilled, baked, roasted, or poached versions of chicken or fish.  You can also opt for healthful meat-free options such as tabouleh.  Obviously, if at all possible, look for organic options when dining out.
But, let's keep in real: for people in good health, there is probably little harm in having the occasional, delicious "indulgence."  On the other hand, if you're dealing with a serious health issue – like diabetes or hypertension – you've got to be more careful.
Bottom line, when frequent restaurant visits and chronic unhealthy food choices become the rule rather than the exception, your health can suffer – with heightened odds of chronic disease and premature death.
And, let's face it, there's nothing delicious about that.
Sources for this article include: