Will this federal lawsuit succeed in FINALLY banning glyphosate?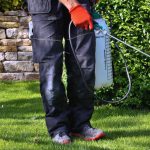 (NaturalHealth365) The U.S. Environmental Protection Agency (EPA) is as wishy-washy as a politician making screeching U-turns to ride the political winds.  In 2015, the EPA agreed with the foremost cancer authorities in the World Health Organization and recognized that glyphosate "might cause cancer."  Today, the EPA  finds the possibility "not likely," and it's doubling-down and reaffirming its position on the world's most popular herbicide despite the countless lawsuits filed against agribusiness and pharmaceutical giant Bayer.
While Bayer recently paid $10.9 billion in legal settlements to 125,000 plaintiffs who claimed Roundup was responsible for their non-Hodgkin lymphoma, the active ingredient in Roundup pesticide – glyphosate – is still widely used in the U.S.  But maybe that will FINALLY change.  On December 17th, the Center for Food Safety (CFS), representing a broad coalition of farmers, farmworkers, and conservationists, filed opening arguments in its litigation challenging the EPA, as it seeks to ban glyphosate for use or sale because of its unlawful approval.
Since EPA defends glyphosate, who protects the people?
The Center for Food Safety's lawsuit alleges that the EPA ignored glyphosate's health risks, disregarded its ecological impact, and failed to consider side effects such as drift damage and the creation of glyphosate-resistant superweeds.  Despite its moniker, the Environmental Protection Agency has done nothing to protect farmers, consumers, or the environment, nor has it done anything to slow the toxic spiral of herbicide use.
Glyphosate was first registered for use in 1974, and it is now an active ingredient in over 750 products.  According to a study published in the Journal of the American Medical Association, levels of glyphosate in the bodies of people in some regions of the U.S. have soared 1,300% in the past 20 years.  Still, while glyphosate's public profile has been scientifically attacked and maligned over the years, it continues to be used across the U.S. and without warning labels about the potential risk of cancer.
"Day of Reckoning" for Roundup: Will the EPA finally ban the toxic chemical?
Why does the EPA continue to defend glyphosate when juries across America find it causes cancer?  Why has the EPA allowed the continued marketing of the pesticide despite its failure to fully assess the harmful impacts on people and the environment?  It's politics as usual, of course.  And money. Or better yet … the political winds of money.
Nevertheless, it's positive to see the reckoning of Roundup and glyphosate might be coming soon.  It's positive to see broad coalitions of farming groups and environmentalists who believe it's a delusion to think weed control is only possible with poison.  Maybe the CFA's lawsuit will force the EPA to finally carry out its responsibility and ban the toxic agricultural chemical.
Until then:
Eat organic when you can (recent studies show an organic diet can reduce the pesticides in your body by 70%)
Petition your legislators and rally your community for change
Exercise your right to vote
Sources for this article include: