Bill Gates plot REVEALED: Are we being fully informed about the "COVID-19 Solution?"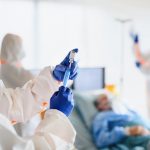 (NaturalHealth365) As the battle for winning the COVID-19 vaccine competition continues, we're seeing more and more excitement in the headlines.  Is this factual reporting on COVID vaccine developments – or merely an attempt to persuade the public into taking the shot?
Many experts suspect the latter.  And despite all the promises and claims by pharmaceutical companies that are jumping the gun on this fast-paced race, millions of Americans are still unconvinced about vaccine safety and effectiveness.
Obviously, this is a huge wrench in Big Pharma's plans for widespread vaccination – and players like Bill Gates have plenty of plans to make sure things go their way.
Gates, Big Pharma ploy to use religious leaders to convince people to get the COVID-19 vaccine
It's no secret that Microsoft founder and billionaire Bill Gates – who has no medical training – is a huge proponent of mass vaccinations.  And in his estimation, "vaccine hesitancy" is a major obstacle in his and his cronies' attempt to push vaccines onto the world at-large.
Gates frequently attempts to belittle vaccine skepticism as purely conspiratorial, and he recently suggested using religious officials and other community leaders to carry the banner for mass vaccination and convince people to line up for the jab.
Gates and his partners already used this approach in developing countries like Nigeria in order to convince people to allow their kids to be vaccinated against polio.  Of course, you may remember that at one point in 2019, more African children ended up paralyzed due to a mutant polio strain from the vaccine itself rather than the wild polio virus the drug was supposed to protect people against.
But nevermind about that, as far as Gates is concerned – it seems more important to him that vaccines get widely manufactured and disseminated, despite the damaging health effects.
National Institute of Allergy and Infectious Diseases director Dr. Anthony Fauci has also admitted to the same PR strategy for COVID-19.  He has reportedly encouraged government officials to use sports stars, community leaders, and other celebrities that people look up to as a means to convince the public to get vaccinated with the hastily-developed vaccine.
But so far, the public still isn't buying it.
Majority of Americans concerned about vaccine safety and effectiveness, say a vaccine will be likely released before we know about side effects, recent poll indicates
A September 2020 poll by Pew Research Center found that of 100,000 Americans surveyed, only about half would "definitely" or "probably" get a COVID-19 vaccine if one were available. This is a huge decline since April, when the Pew Research Center found that nearly three-quarters of Americans would be willing to get vaccinated.
Contrary to what the media may claim, this doesn't appear to be a partisan issue, either. The decrease in vaccine willingness was observed across all major demographic and political groups, according to Pew.
The September survey also indicated that most Americans (77 percent of respondents) believe that a COVID-19 vaccine will be approved before we fully know the degree to which the drug is safe and effective, and that concerns for side effects is a major deterrent to agreeing to the vaccine.
And despite the understandable misgivings about the COVID-19 vaccine from the American public, we continue to see the threat of mandates and penalties associated with the drug, ranging from travel bans to job loss.  Make no mistake about it: medical tyranny has arrived and must be stopped in order to protect public health.
Stay tuned to NaturalHealth365, as we continue to monitor these developments closely.
Sources for this article include:
Statnews.com
RT.com
UMN.edu
PewResearch.org
TheGuardian.com
NPR.org