FDA advisory committee member makes CHILLING admission on child COVID-19 jab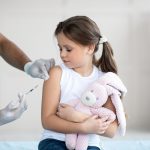 (NaturalHealth365)  He said WHAT?  A member of the U.S. Food and Drug Administration's Advisory Committee on Immunization Practices (ACIP) was just caught on video admitting to a shocking reality regarding the COVID shot for children.
Even though the FDA and U.S. Centers for Disease Control and Prevention (CDC) recently okayed the Pfizer mRNA injection to kids aged 5 to 11, it is clear that even these higher-up officials do not fully understand the potential harm that is now facing an untold number of young Americans.
HIDDEN IN PLAIN SIGHT:  FDA advisory committee member admits to frightening problem with COVID shot for 5 to 11-year-old kids
In October, Dr. Eric Rubin, an FDA advisory committee member and the editor-in-chief of the New England Journal of Medicine, admitted in an NBC News interview that he was "worried" about unknown side effects from the COVID shot for young kids. "The data show that the vaccine works," he says, and adding that it's "pretty safe." However, he admitted there are possible jab-related problems among this age group that officials can't measure or capture yet.
In what many critics and parents say is incredibly worrisome, Dr. Rubin went on to express this exact sentiment during the FDA's ACIP meeting.  It was during this meeting that committee members voted to authorize the Pfizer COVID injection for kids.
Listen to this chilling admission – below:
The FDA says… pic.twitter.com/1vWg3zxtry

— DrKatPhD (@KathMLee1) October 26, 2021
Thankfully, we found this quote buried within 6 hours of footage, where Dr. Rubin blatantly admits: "We're never going to learn how safe this vaccine is unless we start giving it. That's just the way it goes."
It is shocking for a public health official to admit so brazenly that the government is willing to jeopardize the life and livelihood of an unknown number of young children to push the mass vaxx agenda.
How quickly will millions of young children get injected with the COVID shot?  Probably never quickly enough for the CDC and FDA
Dr. Rubin is not alone in his beliefs.  Fellow ACIP member and associate professor of microbiology and immunology at the University of Michigan, Oveta Fuller, has also previously admitted that government officials "certainly cannot anticipate all the risk ahead" when it comes to this COVID injection in young children.
Of course, the future risk of any medical intervention, lifestyle choice, supplement, and so on can never be known with 100% certainty.  But the fact that government and "public health" officials are expressing such a nonchalant attitude toward the potential suffering of children and paving the way for COVID shot mandates in school-aged children is unconscionable.
After all, when the likelihood of severe illness and death with COVID-19 is incredibly rare for kids, should parents feel pressured to get their kids jabbed?  Especially if the jabs lead to heart inflammation and other unknown consequences for kids who would otherwise have been fine facing COVID?
In a November 2, 2021 media statement, the CDC states it "now expands vaccine recommendations to about 28 million children in the United States in this age group and allows providers to begin vaccinating them as soon as possible." It will be interesting to see what kind of propaganda, media coverage, and censorship will occur in the coming weeks and months.
Sources for this article include: