The push to get COVID shots in the arms of 5-11 year old children charges full speed ahead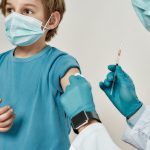 (NaturalHealth365)  In September 2021, the U.S. Food and Drug Administration (FDA) rejected the idea that most people should get a COVID booster shot, instead recommending it only for "high risk" individuals, including seniors and immunocompromised individuals.
Have their precautions waned in the last month? In addition to giving the green light to more booster shots from Moderna and Johnson and Johnson, the FDA also okayed "mixing and matching" shots and the COVID shot for American kids age 5 to 11, despite evidence from "only a few thousand children."
FDA: Smaller dose, two-dose COVID shot okayed for kids age 5 to 11
On October 26, 2021, an advisory committee of the FDA has okayed the use of a smaller dose Pfizer shot in kids as young as five.
The COVID shot for kids is given in two doses three weeks apart, much like the Pfizer shot for adults.  But there will reportedly be just 10 micrograms of mRNA in the shot for kids, compared to 30 micrograms in the shots available for adults.
The FDA is expected to make a final ruling within days, and it seems highly likely that the drug will achieve authorization for this young group – a group known to be "less affected by COVID-19" than adults, per the CDC, and certainly less likely to become severely ill with the pandemic virus, especially if they are healthy.
But despite the 17-0 vote by the FDA advisory committee to authorize COVID shots for young kids, there is still clear evidence that experts are worried about the risk/benefit ratio.
Shots for kids as young as 5 years old imminent, despite FDA concerns about "a side effect that we can't measure yet"
Quoted in NBC News on October 26, committee member and editor-in-chief of the New England Journal of Medicine, Dr. Eric Rubin, said:  "This is a much tougher one, I think, than we had expected coming into it.  The data show that the vaccine works, and it's pretty safe … we're worried about a side effect that we can't measure yet."
He is referring to heart inflammation, or myocarditis – a known adverse effect of the Pfizer and Moderna shots.
Dr. Rubin is also caught on camera saying THIS during the advisory committee meeting:  "We're never going to learn how safe this vaccine is unless we start giving it."
Dr. Paul Offit, a researcher at Children's Hospital of Philadelphia researcher and FDA advisory committee member, said:  "It's always nerve-wracking, I think, when you're asked to make a decision for millions of children based on studies of only a few thousand children."
Another committee member, Oveta Fuller, who is also an associate professor of microbiology and immunology at the University of Michigan, offered this odd statement:  "The benefits of this option far outweigh the known risks," (emphasis ours), before continuing, "We certainly cannot anticipate all the risk ahead."
So, the benefits outweigh the known risks. And what of the unknown risks?
Are parents prepared to assume full liability for these risks and potential damages?  It's a difficult decision.  Meanwhile, mandates regarding jabs and masks for school-aged children continue across the country, as officials in places like California and Massachusetts appear more and more emboldened by the FDA and CDC.
Sources for this article include:
Childrenshealthdefense.org
NBCBoston.com
NBCNews.com
NBCNews.com
CDC.gov