Bounty on your head: Hospitals receive financial incentives for each COVID-19 patient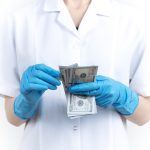 (NaturalHealth365)  $36 billion – that's how much Pfizer stands to profit from its mRNA COVID shot in 2021, according to a November article by Business Insider.
But evidence suggests that the Big Pharma companies aren't the only ones who stand to benefit financially from the pandemic – even your nearest hospital could be receiving some serious incentive for every single COVID patient.
Check out the financial incentives your local hospital may receive for admitting COVID patients
The Coronavirus Aid, Relief, and Economic Security Act, also known as the CARES Act, is a whopping $2.2 trillion economic stimulus bill passed by the U.S. Congress and signed into law by former President Donald Trump on March 27, 2020.  As described in a recent article written by Dr. Elizabeth Lee Vliet, M.D. and Ali Shultz, J.D., the CARES Act "provides hospitals with bonus incentive payments for all things related to COVID-19 (testing, diagnosing, admitting to hospital, use of remdesivir and ventilators, reporting COVID-19 deaths, and vaccinations."
These bonus incentives include the following:
A "free" yet mandatory PCR test upon admission or ED visit for every patient
Bonus payment for each positive COVID-19 patient
A bonus for a COVID-19 admission to the hospital
A 20 percent "boost" bonus payment from Medicare on the entire hospital bill for the use of remdesivir (instead of other medicines such as Ivermectin)
Yet another bonus payment to the hospital if a COVID-19 patient is placed on a mechanical ventilator
Additional money to the hospital if the cause of patient death is listed as COVID-19 – even if the patient did not die directly from COVID-19
Extra payments to coroners when handling people who have died with a COVID-19 diagnosis
It's worth noting that these incentives or payouts must be paid back by hospitals to the federal government if they are not "earned" – that is, if COVID-19 diagnoses are not made and COVID-19 protocols are not followed.
At what point will people begin asking some tough questions?  Would these federal regulations, as outlined in the CARES Act, incentivize hospitals to admit as many COVID patients as possible?
And why are there no incentives or stipulations related to early treatment?
It's not just the CARES Act – patients' rights are being trounced during this pandemic, CMS waivers reveal
In their article, Dr. Vliet and Shultz explain that The Centers for Medicare and Medicaid Services (CMS) has also reportedly implemented an additional incentive to healthcare facilities based on how many of their employees have received COVID shots.
CMS reportedly accepts waivers from hospital systems that essentially quash standard patient rights.  Hospital executives in Arizona were even caught on audio discussing ways to lower standards of care for patients (e.g., limited visitation rights and stringent restrictions).
In response to this unusual move, Dr. Vliet and Shultz quote Texas attorney Jerri Ward, who says that "CMS purports to allow hospitals to violate the rights of patients or their surrogates concerning medical record access, to have patient visitation, and to be free from seclusion … "[R]ights do not come from the hospital or CMS and cannot be waived, as that is the antithesis of a 'right.' The purported waivers are meant to isolate and gain total control over the patient and to deny patient and patient's decision-maker the ability to exercise informed consent."
No matter how you feel about the pandemic or the various mandates and mitigation measures, you probably don't want to see hospital systems overwhelmed – virtually all of us share this sentiment.  But if the federal government continues to reward hospitals for admitting COVID patients, continues to restrict the rights of these patients while admitted, and continues to encourage hospitals to fire workers based on vax status, then it's not clear how this "healthcare overwhelm" problem is supposed to get better any time soon.
To learn more about Dr. Vliet, listen to this video interview (below) with Dr. Vliet and Jonathan Landsman, creator of NaturalHealth365:
Sources for this article include:
BusinessInsider.com
Fredbrownbill.com
Congress.gov
Rumble.com