Bizarre process: The FDA green lights bivalent COVID boosters for kids under 5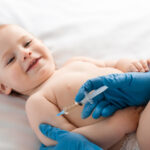 (NaturalHealth365)  The U.S. Food and Drug Administration (FDA) is again in the news for all the wrong reasons.  In yet another sign of the impending apocalypse, the FDA decided to allow Pfizer and Moderna's COVID bivalent boosters to be injected into our vulnerable children under five.  What's the scientific basis for this decision?  The answer will surprise you.
Though some critics came out of the woodwork to criticize Big Pharma's plan as misguided, the mainstream media happily regurgitate the industry-wide plea for parents to inject their little ones with a series of mRNA shots.  The details about this story are disturbing. (keep reading)
FDA grants Emergency Use Authorization for COVID bivalent boosters for babies, toddlers
Unsurprisingly, on December 8, 2022, the FDA  granted Emergency Use Authorization (EUA) to Pfizer and Moderna's bivalent boosters to be given as part of a three-dose series for children six months to four years.  The green light came despite pushback from public interest watchdog groups, insisting the booster shots should be considered obsolete and come with "very concerning side effects."
Despite COVID not being a significant threat to babies, according to FDA Commissioner Robert Califf, parents should get their little ones jabbed for the holidays and "update their protection against Covid-19." Never mind the mounting evidence suggesting a lack of effectiveness and the high potential for severe adverse events.  Instead, "follow the science."
So following the FDA recommendations, parents can now have another toxic shot injected into their babies that zeroes in on Omicron BA.5 and Omicron BA.4, two subvariants that supposedly continue to spread.  Thankfully, most American parents do not seem to buy what Big Pharma is selling, as the uptake, even for the first two COVID shots, has been low.  Only 9.3 percent of children aged two to four have taken at least one dose of the COVID shot, and only 4.6 percent have taken two doses.
The case against bivalent boosters for babies, toddlers, and children is strong
Tuning out the massive propaganda distributed by mainstream media will allow you to see there is simply no medical necessity justifying more COVID shots for babies and children.  Furthermore, bivalent boosters cause serious side effects, some of which have the potential to last for life.  Several high-profile physicians have emerged after Pfizer pushed for EUA, insisting there is no hard data or other evidence supporting the efficacy of bivalent boosters.
Big Pharma requested clearance for the EUA despite the lack of supporting clinical data.  Nevertheless, the CDC and FDA proceeded with the COVID boosters, bypassing human trials to line the pockets of Big Pharma.  The sad truth is that profit-driven pharmaceutical corporations are pushing bivalent untested COVID boosters on unsuspecting parents of kids as young as six-months-old.
With the failure to test booster shots through human trials, the public has no way of knowing the shots' short-term risks, not to mention the potential for long-term harm.  But while Big Pharma got its way thanks to the collaboration from the CDC, FDA, and the U.S.  Government, parents, you can protect your babies by saying no to the latest toxic shot.
Sources for this article include: