Lockdowns give rise to negative health issues for "work from home" Americans, study reveals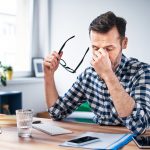 (NaturalHealth365) The American horror story continues.  State and local officials are revamping major economic lockdowns in places like California, where small business owners are failing (and where many officials fail to follow their own mandates).  The so-called purpose of these lockdowns is to curb the spread of COVID-19 … however, new research confirms what many of us suspected would happen since the beginning of the pandemic.
In fact, according to one recent survey conducted by researchers from the University of California, the call to work from home has triggered a range of physical and mental health effects that could have long-lasting repercussions on American taxpayers.  Let's face it, for millions of people the lockdowns can be just as bad (if not worse!) than the threat of COVID-19.
Large survey reveals troubling health impact of work from home requirements pushed by local and state officials
The USC-based survey, which was recently published in the Journal of Occupational and Environmental Medicine, asked nearly 1,000 people how working from home due to the pandemic has affected their mental and physical well-being.
Here are a few major findings:
More than 6 in 10 people reported one or more new physical health problems, including neck pain
Almost three-quarters of respondents report a new mental health issue, including depression
Workers are reporting less physical activity, increased consumption of junk food, and increased food intake overall (a tried-and-true recipe for obesity and other chronic health conditions)
Job satisfaction and productivity have also suffered, with many reporting increased distractions, less effective communication with colleagues, and increased time spent at workstations (by an average of 1.5 hours)
The negative health impact of working from home also appears to affect workers differently. The survey found that female workers earning less than $100,000 per year were more likely to report two or more additional health problems. Females, in general, were also more likely to report depression.
Parents, meanwhile, reported a range of positive and negative effects. For example, parents of infants were more likely to report new mental health problems, even though they tended to have better mental well-being overall. Parents of teenagers appeared to have a decreased risk of new health issues, whereas parents of toddlers reported more mental and physical health issues.
Overall, the results are concerning – and they raise an important question:
At what point will officials admit that their power-hungry response to the pandemic appears poised to cause more long-term damage to public health than the virus itself?
If you must work from home or quarantine due to the pandemic, here are 5 tips to stay healthier
Burcin Becerik-Gerber, one of the study's main authors, acknowledges that the push to work from home may correlate with a range of negative health outcomes. But until and unless hardworking Americans can get back to work in their normal socially-supported environments, we'll have to make the best out of this unusual situation.
With this in mind, here are 5 tips to optimize your work from home routine:
Have a dedicated workspace in your home, if possible
Minimize distractions (e.g., close doors, silence phones and notifications, let your family know when you need total focus)
Optimize lighting and ambient temperature to promote comfort and ergonomic safety
Add a few plants (research, including a recent randomized cross-over trial from the Journal of Physiological Anthropology, suggests being around indoor plants can help reduce mental and physical stress) and use an indoor air purification unit to eliminate indoor air pollution
Commit to daily physical activity like, walking and follow a healthy diet – which includes the consumption of clean (purified) water and organic vegetables, on a daily basis
Sources for this article include:
EurekAlert.org
BMJ.org
TheLancet.com
BusinessInsider.com
NIH.gov
Journals.LWW.com