MORE parents have concerns over childhood immunization, research suggests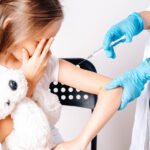 (NaturalHealth365)  If you are hesitant or unsure about childhood vaccines, you should know that you are NOT alone.  Many parents share your concerns.
In fact, the number of parents who are starting to question, delay, modify, or forgo "the schedule" for children is increasing rapidly – no matter how much mainstream media outlets and so-called health "experts" want to deny this reality.
New federally-backed research report reveals more parents are questioning childhood shot schedules than ever before
A new research report out of Canada, conducted by Ekos Research Associates and commissioned by the Canadian federal government, offers revelatory findings about how parents truly feel about mandated childhood shots.
The report, Childhood Vaccination Marketing Campaign Survey 2022, collected data from 1,228 Canadians, "including 1,035 parents with children 0 to 6 years of age, and 193 individuals who are currently pregnant or planning a pregnancy within the next 12 months," according to the report.
Of the respondents, only about 4 in 10 (39 percent) "said they accept all recommended vaccines and have no doubts or concerns about vaccinating their child."  That's nearly a 10 percentage point drop from 48 percent in 2017.
The report also found that 1 in 3 parents have "minor doubts and concerns" about government-recommended shots, and another five percent say they have "many doubts and concerns," even though they accept these shots for their children.  Conversely, 3 percent of respondents have opted out of all shots, and nearly 1 in 5 (19 percent) have declined or delayed at least some shots.
This is NOTEWORTHY data.  Here's why:
It indicates a growing interest in medical freedom and bodily autonomy – and highlights the atrocious impact of medical discrimination
It indicates that people are becoming more empowered to think for themselves
It stands with our belief that we should all want FULLY informed consent about any medical intervention – and that we all deserve the right to choose when and whether to consent to said intervention without coercion, propagandized shame, or threat of loss (loss of access to education, work, public places, etc.)
In other breaking news: Yet ANOTHER state approves religious exemptions for shtos in school-aged children
The COVID-19 pandemic certainly spawned a LOT of conversation around medical freedom in Canada, America, and elsewhere and caused many people to come to the conclusion that forcing adults and children to consume imperfect medical products that come with a laundry list of adverse effects is ethically bankrupt.  Could we be seeing the tides turning as a result of this cultural shift?
Case in point:
In April 2023, a federal judge struck down a decades-long ban on religious exemptions to childhood shot requirements for public or private school attendance in the state of Mississippi.  Effective July 2023, the ruling means that parents in the state can now opt out of injecting their children based on their religious beliefs and still be permitted to send their children to school.
Religious exemption used to be allowed in the state but was struck down in 1979 by the Mississippi Supreme Court.  This reversal is truly a victory in the fight for bodily autonomy – although we would argue that any parent should be free to opt out of injecting their children for medical, religious, or philosophical/personal reasons.
Unsurprisingly, mainstream media outlets are trying to paint this federal ruling as a reason for concern, claiming that unvaxxed kids are a danger to themselves and their community.  Never mind that:
Plenty of fully-vaxxed kids end up sick with the disease that shots are supposed to prevent – for example, did you know that at least 40 percent of American kids who got pertussis in 2022 were fully vaxxed against it, according to the U.S. Centers for Disease Control and Prevention (CDC)?
Kids who recently received a live MMR, chicken pox or intranasal flu shot are a potential danger to others (including immunocompromised and vax-free children) due to the well-established phenomenon of vax shedding – yet these kids are allowed to be in school, no hesitation!
Unvaxxed does NOT automatically equal infected (just like vaxxed does NOT automatically equal uninfected) – in other words, how can a healthy child spread a disease they don't have?
Mainstream media outlets also decry the decline in childhood shots that has occurred since the COVID-19 pandemic.  According to an April 22, 2022 Morbidity and Mortality Weekly Report (MMWR) from the CDC, the exemption rate for the 2020-21 school year was "low" at 2.2%, while vax coverage was one percent lower than the previous school year (though still high, at 94%).  The CDC blames things like school closures and delayed doctor visits … could it also be that parents are becoming more curious about "the schedule"?
Of course, there's no question that there will be a push for catch-up vaccine schedules in the wake of the pandemic.  We can only hope we do not start to see a sharp rise in vax injuries and sick kids in the coming months and years … and if we do, we can only hope public health officials will be transparent and honest about what's going on.
Sources for this article include:
Epe.bac-lac.gc.ca
Mississippifreepress.org
CDC.gov
Zerohedge.com