Nationwide WARNING issued by Poison Control about COVID-19 rapid antigen tests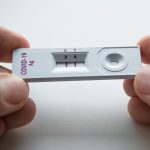 (NaturalHealth365)  Back when people first questioned the safety and accuracy of the COVID test nasal swabs, the mainstream approach was to deplatform and cry "misinformation," perhaps the pandemic-era version of "crying wolf."
But now, officials are raising a poison control alert about a toxic substance (typically used in pest control products) found in some COVID-19 rapid antigen tests.
At-home COVID tests like the ones handed out by the White House reportedly contain toxic and "potentially deadly" chemical
After issuing millions of at-home rapid antigen COVID tests to American households, the U.S. government acknowledges an increase in the number of reported sodium azide poisoning.  It turns out that these at-home kits contain this harmful substance – a concerning discovery that prompted members of the Ohio Poison Control to issue a national warning.
Accidental exposure to sodium azide when using these at-home tests is apparently happening only when the tests are misused.  Even so, Ohio Poison Control member and Cincinnati Children's Hospital toxicologist Dr. Sheila Goertemoeller recently said in an interview with a local television station that the "toxicology community has been both surprised that this was the ingredient in some of the kits, and also concerned.  We have seen exposure in all age groups."
Dr. Goertemoeller also stated that her department is "one of 55 poison control centers and nationwide other poison centers" that have reported similar findings and states "there have been more than a couple of hundred exposures nationwide to Sodium Azide in test kits." According to the Gateway Pundit, nearly 60 million Americans have received free rapid antigen testing kits from the Biden Administration so far.  Antigen tests known to contain this deadly chemical include BinaxNOW, Flowflex, BD Veritor, and Celltrion DiaTrust.
To be clear, these tests are not "contaminated" with sodium azide – instead, the compound is intended to be there.  The chemical is reportedly used as a liquid reagent and preservative that triggers a chemical reaction after coming in contact with a used nasal swab to help create a positive or negative test.
According to reports, some people have mistakenly used the container of sodium azide as an eyedropper or dipped their nasal swab in the solution before putting the swab in their nose.
What is sodium azide?
According to the U.S. Centers for Disease Control and Prevention (CDC), sodium azide is a "rapidly acting, potentially deadly chemical that exists as an odorless white solid."
Sodium azide can be found in the following items or areas:
Automobile airbags
Hospitals and laboratories (as a chemical preservative)
Pest control and agriculture
Bomb detonators and explosives
The compound is harmful to human health, explains the CDC because it "prevents the cells of the body from using oxygen," facilitating cell death.
The CDC adds, "Sodium azide is more harmful to the heart and the brain than to other organs, because the heart and the brain use a lot of oxygen."
Symptoms of sodium azide exposure (via inhalation, ingestion, or skin contact) include dizziness, low blood pressure, headache, heart palpitations, skin burns and blisters, seizures, loss of consciousness, and death.
If you ever suspect that you or a loved one are suffering a reaction to a toxic chemical, call Poison Control immediately at (800) 222-1222.
Sources for this article include: