NEW study finds banned, cancer-causing chemicals in majority of household products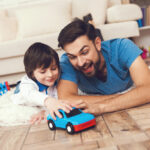 (NaturalHealth365)  Look around your home.  According to a new study, nearly 9 out of every 10 household products you own are likely to contain toxic chemicals that have been banned in some countries for over six years.
The chemicals, known as short-chain chlorinated paraffins (SCCPs), were listed for elimination under the Stockholm Convention in 2017 and have been banned in Canada since 2013.  However, SCCPs are still readily found in household products made prior to these prohibitions – and could still be in use in some countries.  Here's what you need to know.
New study REVEALS: Environmental toxins found in majority of everyday items, including electronic devices and children's toys
According to the Environmental Protection Agency (EPA), SCCPs are chemicals used as lubricants and coolants in metalwork operations as well as secondary plasticizers and flame retardants in plastics.  The EPA is "concerned" about these chemicals because of how widespread and persistent they are and because of the potential impact they have on the environment – and the organisms living in it (the EPA says SCCPs are toxic to aquatic animals even at low concentrations).
One brand new literature review published in the May 2023 peer-reviewed journal Science of the Total Environment notes that SCCPs are readily detectable in human urine, blood, hair, placenta, and breast milk.  This review also found that the estimated daily intake of SCCPs for the average human (via routine exposure to the environment and everyday items) may actually exceed the established tolerable daily intake recommended by the UK Committee on Toxicity and the World Health Organization.
"Furthermore," the review authors note, "recent studies revealed that lower doses of SCCPs could also result in damage to multiple organs including the liver, kidney, and thyroid."
It's a bit disheartening, isn't it?  Global organizations could be genuinely trying to protect citizens by banning harmful toxins, only to realize that these toxins are basically unavoidable, even long after the ban takes place!
Another new study, published in April 2023 in Environmental Science: Processes & Impacts, found that 84 out of 96 products purchased in Canada post-2013 contained detectable levels of SCCPs.  These products include everyday items like headphones and other electronic devices, paintings, clothing, and plastic children's toys.
The study authors warn that their findings "show the ubiquitous occurrences of SCCPs in a wide range of products currently marketed in Canada, suggesting continuing indoor exposure to SCCPs despite their prohibition" (emphasis ours).
Three tips for detoxing your household and reduce exposure to cancer-causing chemicals
It's springtime, so it's the perfect time to do a deep clean and de-clutter of your home.  But if the stress of getting potentially toxic chemicals out of your house is overwhelming you, here are some ideas to get you started with greater ease and focus:
Toss the small and obvious first.  If you haven't already, get rid of conventional candles, room sprays, and household cleaners, and upgrade to non-toxic options instead (e.g., essential oils and diffusers, low-tox or non-toxic all-purpose cleaners, or even DIY cleaners with things like baking soda, Castille soap, vinegar, and water).
Upgrade your most frequently used items.  Can you switch your children's toys to toys made with safer materials, like wood, wool, or silicone?  Ready to invest in ceramic, steel, or cast iron cookware?  How about a non-toxic cosmetics and skincare haul?
Make your home a shoe-free zone.  In addition to potentially containing harmful chemicals within the shoes themselves, shoes can easily track in SCCPs and other toxins from the soil and ground outside.  So, design and designate a clear area in your garage or entryway for everyone to doff their shoes, so you can keep your indoor environment much cleaner and safer.
As another important tip to removing toxins from your body, consider using a far infrared sauna – on a regular basis.
Sources for this article include: