Senior NIH doctor argues COVID jab mandates are "extraordinarily problematic"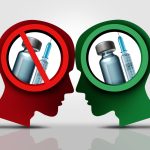 (NaturalHealth365)  Employers, citizens, and other public officials were understandably disturbed when President Biden recently urged large employers to go ahead with the COVID shot mandates – despite the fact that a federal appeals court recently BLOCKED the unconstitutional injection mandate.
In fact, you might be surprised by the type of people who stand against these widespread mandates – including the mandates that are likely to come for young children in some parts of the country.
Pushback from an unlikely source: Senior NIH doctor and researcher tells Fauci mandates are "extraordinarily problematic," will debate against mandates in upcoming roundtable discussion
According to The Hill and other sources, Dr. Matthew Memoli is a senior doctor and research leader at the National Institutes of Allergy and Infectious Disease (NIAID).  The NIAID, led by Dr. Anthony Fauci, is a division of the National Institutes of Health (NIH).
Dr. Memoli has spent 16 years working at the NIH.  He is one among many government officials who have decided not to get the COVID shot.
Dr. Memoli has openly questioned the "ethics" of COVID shot mandates.  According to The Wall Street Journal, Memoli will argue against the mandates in a live-streamed roundtable discussion to be held on December 1.  And in July, Dr. Memoli emailed Dr. Fauci that he thought jab mandates were "extraordinarily problematic," and that he believed it was "wrong" the way the NIH and government officials are "using" the shots.
Memoli argues that while vulnerable populations will benefit from the new jabs, mandating these jabs at a population level would derail the development of natural robust immunity from natural infection.
He himself has not received the COVID shot and has reportedly invoked an exemption.
Holding the line:  Federal appeals court maintains block against COVID shot mandate for large employers
Meanwhile, it appears that the law is finally showing support for medical freedom over federal overreach.
In New Orleans, Louisiana, a three-judge panel on the U.S. Court of Appeals for the Fifth Circuit recently UPHELD its block on Biden's COVID shot mandate, which would require employers with more than 100 employees to force their employees to get jabbed or get tested weekly.
The federal appeals court said the proposed mandate "grossly exceeds" the authority of the agency and administration who stand behind it.
"We begin by stating the obvious," the 22-page ruling says.  "The Occupational Safety and Health Act, which created OSHA, was enacted by Congress to assure Americans "safe and healthful working conditions and to preserve our human resources." …. It was not – and likely could not be … intended to authorize a workplace safety administration … to make sweeping pronouncements on matters of public health affecting every member of society in the profoundest of ways."
The ruling continues:  "From economic uncertainty to workplace strife, the mere specter of the mandate has contributed to untold economic upheaval in recent months."
"Of course, the principles at stake when it comes to the mandate are not reducible to dollars and cents.  The public interest is also served by maintaining our constitutional structure and maintaining the liberty of individuals to make intensely personal decisions according to their own convictions – even, or perhaps particularly when those decisions frustrate government officials."
The federal appeals court ordered OSHA to "take no steps or enforce the mandate until further court order," but not before saying that challengers of the mandate are "likely to succeed."
Sources for this article include: