Soldiers file lawsuit against Pentagon to fight against COVID jab mandate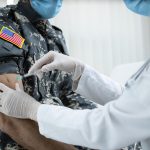 (NaturalHealth365) Mainstream media, influencers, and public health officials are busy guilt-tripping half the country and pushing the narrative that anyone opposed to a COVID shot mandate (and the upcoming booster shot) is in the minority.  But throughout the country, more and more people are standing up and making their voices heard.
Perhaps nowhere have these voices been louder than within the military community, as evidenced by a recent lawsuit brought against the Pentagon.
Soldiers fight back:  Lawsuit filed against Pentagon as U.S. military members oppose COVID shot mandate
The Department of Defense (DoD) recently announced that they would require U.S. military personnel to take the COVID-19 shot.  The September 15th deadline might even be pushed up now that the COVID shot from Pfizer has received full approval from the U.S. Food and Drug Administration (FDA).  According to the Associated Press, any Armed Forces member who chooses not to take the COVID shot is subject to punishment, up to and including court-martial.
Now, service members who have so far opposed the COVID mandate are fighting back.
Two plaintiffs – Staff Sergeant Daniel Robert, U.S. Army, and Staff Sergeant Holli Mulvihill, USMC – filed an action against the DoD seeking a judgment that they cannot be forced to take this shot under current military regulations, federal regulations, federal law, and the U.S. Constitution.
Plaintiffs Robert and Mulvihill are acting on behalf of themselves and all other active-duty members previously infected with COVID-19.  In their legal documents, they and their lawyers state that the DoD "is already vaccinating military members in flagrant violation of its legal obligations and the rights of servicemembers under federal law and the Constitution."
The plaintiffs add:  "Army Regulation 40-562 provides documented survivors of an infection, a presumptive medical exemption from vaccination because of the natural immunity acquired as a result of having survived the infection."
In the meantime, New York City restaurant owners sue de Blasio, refuse to comply with jab passport mandate
Opponents to COVID shot mandates see this exponential proliferation of so-called jab "passports" as a dangerous infringement on constitutional rights.  For example, in New York City – where Mayor Bill de Blasio tyrannically told people in early August that "if you want to participate in our society fully, you've got to get vaccinated" – a group of NYC restaurant owners is now refusing to comply with the jab mandates.
Mary Josephine Generoso, manager at Pasticceria Rocco's of Bay Ridge, put this sign in the window of her restaurant:  "We do not discriminate against ANY customer based on sex, gender, race, creed, age, vaccinate or unvaccinated.  All customers who wish to patronize are welcome in our establishment."
Like members of the U.S. military, many restaurateurs in the Big Apple are taking their opposition to the next logical step.  According to CNBC, the Independent Restaurant Owners Association Rescue, as well as the gyms Evolve-33 and Staten Island Judo Jujitsu, are seeking an injunction against the executive order calling for proof of a COVID shot to enter an establishment.
The jab mandates won't be enforced in New York City until mid-September.  It is yet to be determined – when and if – these mandates will stop.
Sources for this article:
Beckernews.com
CNBC.com
Newyork.CBSlocal.com
Courthousenews.com