NEW report reveals that bottled water contains more toxic chemicals than you can imagine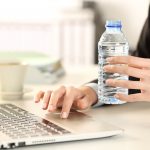 (NaturalHealth365) Americans drink more bottled water than any other beverage, including coffee, tea, milk, and soft drinks.  According to Statista, in 2019, per capita consumption of bottled water amounted to roughly 43.7 gallons in the United States, up from 16.2 gallons in 1999.  Of course, there are many people that say the consumption of water in plastic bottles can put a strain on the environment.  But, what might be even harder to swallow is the fact that some popular bottled water brands are bad for your health, too.
Consumer Reports tested 47 different brands of bottled water (35 carbonated, 12 carbonated) and found levels of toxic PFAS chemicals (poly and perfluoroalkyl substances) that are above the limit recommended by experts.  In addition, a 2019 study published in Frontiers in Chemistry analyzed samples from 259 bottled water brands sold in several countries around the world and found that 93% of them contained microplastic synthetic polymer particles.  In other words, the health qualities of bottled water might not be so healthy after all.
Popular bottled water brands contain shocking levels of PFAS
Prevailing standards and government regulations have not caught up to the toxic threat of PFAS, a group of industrial chemicals that have been linked to liver damage, thyroid disease, pregnancy risks, and other adverse health conditions.
As of January 2021, the Environmental Working Group states that 2,337 locations in 49 states are known to have PFAS contamination in their water systems.  In pursuit of healthier, purer, safer water, many Americans turn off the tap and reach for bottled water.  It appears that bottled water, however, isn't any cleaner.
Consumer Reports found that popular bottled water brands, including products from the Perrier and Poland Springs lines, as well as canned carbonated waters like Bubly and LaCroix, contained concerning levels of PFAS.
To learn more about the shocking (and disturbing) history of PFAS, listen to this incredible NaturalHealth365 podcast with Jonathan Landsman and Robert. A Bilott, an American environmental attorney from Cincinnati, Ohio.
Bottled water is cleaner than tap water, right?  Not really!

Bottled water is marketed as though it's "cleaner" than tap water, but in reality, according to the study in Frontiers in Chemistry, bottled water has twice as much plastic in it as tap water.  According to researchers, the majority of the microplastics lurking in bottled water are introduced in the industrial bottling process.  Nylon, polyethylene terephthalate, and polypropylene,  which are used to make bottle caps, are the plastic debris most commonly found.
The study published in Frontiers of Chemistry tested 11 bottled water brands and found that the average brand contained 325 microplastic particles per liter of bottled water.  Nestle Pure Life had the largest concentration of plastic particles, containing more than 10,000 microplastics per liter.
Replace your bottled water with these safer alternatives
There are countless reasons to give up your plastic water bottle habit.  PFAS and microplastics are just another toxic strand in a tangled web of health, economics, and environmental crisis.  So what can you do?
Buy a good water filter or home filtration system
Carry your to-go water in an insulated stainless steel or glass bottle instead of plastic
Advocate for clean, pure, safe water and help to support stricter PFAS and microplastic regulations
By the way, there is one company that has tested "clean" for its plastic bottled spring water and that's Tourmaline Spring.  And, no, we at NaturalHealth365 do not earn a dime for talking about this brand.  We just thought you might want to know.
Sources for this article include: