Brownstone Institute: Exposing children to the risks of COVID injections to protect adults is "reckless and dangerous"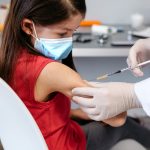 (NaturalHealth365)  Since Dr. Anthony Fauci recently admitted that a "significant proportion" of COVID-19 positive patients in the hospital are fully vaxxed (but, you see, without their "booster shot"), the doubt over just how "safe and effective" the COVID shot really is, continues to grow.
And now that the Pfizer kids shot is available in the United States, more organizations are beginning to question the necessity of injecting some of our youngest citizens with these drugs.
Risk of severe illness and death for kids from COVID is "close to zero" – is this really worth exposing kids to adverse vax reactions?
According to unconfirmed reports published by investigative journalist Steve Kirsch, neonatal intensive care units throughout the country are filling up with newborns struggling with heart problems – newborns who happened to be born to fully vaxxed mothers.  So could an increase in congenital heart problems truly be due to climate change – as headlines quite conveniently just started reporting – or could this be a sign of adverse effects of the COVID shot?
While we still have virtually no long-term data – Pfizer, it should be noted, only monitored the kids in their COVID shot trial for up to four months following the second dose – many experts are raising the alarm.
As described in an article published by the Brownstone Institute, reams of data compiled by esteemed Stanford University physician and professor Dr. John P.A. Ioannidis reveal the following:
The survival rate of COVID-19 for people under 70 years old is 99.5%
The estimated infection fatality rate for children and young adults is close to zero
Even the risk of a child spreading COVID-19 or becoming seriously ill with it is extremely rare, as well
Given this information, the Brownstone Institute argues, "[t]he risk-benefit discussion for children with these Covid-19 injections is a very different one than that for adults … this is a completely novel and experimental injection therapy with no medium or long-term safety data (or even definitive effectiveness data).  If we move forward with the vaccination of our children without the proper safety testing, then we will present them with potentially catastrophic risk, including deaths in some."
Young adults remain at risk of severe adverse reactions to COVID shot – and more European countries recognize this by BANNING use of Moderna shot in people under-30
While officials around the world continue to recommend the Pfizer mRNA shot to most people over the age of 5, more countries are beginning to acknowledge the dangers posed by Pfizer's prime competitor (although hundreds to thousands of injuries and deaths are still being reported following the Pfizer shot, too).
According to Forbes, Finland, Sweden, Denmark, and Norway – and most recently Germany and France – have officially banned the use of Moderna in people younger than 30 years old.  This is due to the observed increased risk of heart inflammation post-jab in this age group, especially males.
The majority of officials still insist that the benefits of the COVID shot continue to outweigh the risks and remain relatively mum on the need for individuals to weigh their unique risk profile before deciding to consent to a medical procedure such as taking an experimental jab.
In America, U.S. public health officials are currently waiting on whether to allow Moderna mRNA shots to be injected into children.  However, they are still permitted for any adult older than 18.
Sources for this article include:
Brownstone.org
Forbes.com
Cedars-sinai.org
Dailyexpose.com
Beckershospitalreview.com
Pfizer.com
WHO.int
Medrxiv.org