Updated VAERS data show the number of COVID jab-induced injuries and death toll continue to rise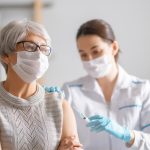 (NaturalHealth365)  It's been less than one year since the first COVID shot outside a clinical trial was administered in the United States, and we've already been told that every adult in America should roll up their sleeve for their third (or in some cases, their fourth) dose.
But as the booster shot rollout continues (exactly how many so-called "conspiracy theorists" predicted it would), mainstream media will keep telling you to disregard the increasing number of COVID shot injury, illness, and death reports that are now coming in droves.
The damage continues: Data released by the CDC in early November reveals STARTLING number of injuries, deaths in people who got COVID shot
Dizziness, chest pain, joint pain, dangerously high blood pressure, death, and more.  Data released by the U.S. Centers for Disease Control and Prevention (CDC) on November 12, 2021, reveals that there have been nearly 900,000 reported cases of adverse events and over 18,800 fatalities following COVID shots.
While jab proponents are quick to point out that these cases haven't been "proven" to be caused by the shot, the sheer amount of data coming in simply cannot be ignored (especially given the lack of appropriate controls from the clinical trials).  Plus, VAERS reporting takes time – time that many healthcare providers simply don't have – and has been shown by prior research to be wildly underreported.
According to VAERS, COVID shot-related injuries and deaths are affecting all age groups, including the following heartbreaking example:
An entry, known as VAERS ID 1858355-1, describes a 5-year-old girl from Virginia who was vaxxed on 11/17/21.  Just three days later, the report says, "the child was at school, her eyes rolled in the back of her head, and she slid down in her chair.  The child's lips appeared bluish in color and the child 'passed out' for approximately 10-15 seconds.  Vital signs taken by the school nurse were reported to the parent to be within normal range.  No identifiable cause noted to cause the child to lose consciousness per mother."
Meanwhile, double-jabbed folks are starting to fill up hospital beds – but instead of acknowledging potential risks of COVID shot, officials use this as opportunity to push the booster shot
It seems like just a matter of time before the CDC and other public health officials change the definition of "fully vaccinated" when it comes to the COVID shot.
CDC Director Rochelle Walensky hinted at this when she told reporters that the definition could change given the widespread availability of booster shots – although she quickly backtracked on that comment in early November, when she was quoted in an article from The Hill,  as saying that the "definition of 'fully vaccinated' is one dose of the Johnson & Johnson vaccine and two doses of the either Pfizer vaccine or the Moderna vaccine, and we're not examining changing that definition anytime at this point."
But if the goal is to continue pushing the narrative that jabs are the only way out of this pandemic, it almost seems inevitable that the definition will soon change, especially when we see what is happening to people currently meeting the "fully vaxxed" definition.
On November 17, Anthony Fauci, MD, director of the National Institute for Allergy and Infectious Diseases, admitted on NBC News that fully vaxxed people now make up a "significant proportion" of hospitalized patients.  "What we're starting to see now," he adds, "is an uptick in hospitalizations among people who've been vaccinated but not boosted."
Attention readers: What do you think of this statement?  Is it an honest assessment of what's happening in our country or the perfect set-up for some serious gaslighting?
Does it make sense to keep taking more of the same drug that evidently does not work for (and in fact harms) so many people?
Sources for this article include:
Greenmedinfo.com
Beckershospitalreview.com
Thehill.com
CDC.gov
Childrenshealthdefense.org
CBSnews.com