8 in 10 people will experience THIS common health problem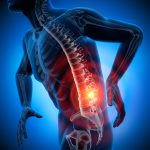 (NaturalHealth365) It's one of the leading causes of disability, lost wages, and lowered productivity.  It's estimated that 8 out of 10 of us will experience it at least once in our lifetime.  It's chronic low back pain — and understanding the possible back pain causes, risk factors, and treatment options is essential for ensuring your spine stays as healthy as possible as you age.
What are the symptoms of chronic back pain, why is this broad health condition so common, and what can be done about it?  Let's look at the current research.
MAJORITY of factors leading to chronic low back pain are preventable, lifestyle-related, according to experts
Back pain symptoms include dull, throbbing, achy, and/or stiff pain anywhere in the spine, but usually in the lower back.  If the underlying cause of your back pain — such as disc herniation, disc bulge, or spinal stenosis — involves compression of a nerve as it leaves the spinal column, then additional symptoms in the leg or arm can develop, too, including weakness, numbness, pain, and tingling.
No matter what specific back diagnosis you may have, here are the most common risk factors for developing it:
Advancing age (men between the ages of 30 and 50 are particularly at risk)
Genetics
Fitness level (you guessed it — less physically fit people and "weekend warriors" are more likely to have back pain)
Weight gain
Occupational factors, such as frequent heavy lifting, bending, pulling, pushing or even sitting
Stress, anxiety, and depression
Smoking
As for kids, heavy and improperly carried backpacks are the leading culprit.
Now, notice that except for the first two, all these risk factors are modifiable.  This means keeping your spine healthy is largely within your control.
When it comes to low back pain, conventional medicine often falls short — here's what the research recommends instead
It didn't surprise anyone when a new study in the British Journal of Sports Medicine concluded that physical inactivity is linked with an increased risk of severe COVID-19.  But what happens if your back hurts so much that you can barely tolerate standing for longer than 5 to 10 minutes?
Unfortunately, many people assume that when they have chronic symptoms of low back pain, the only way out is to eventually go under the knife or take daily trips to the medicine cabinet.  The problem is, these conventional approaches to chronic back pain aren't always as effective as one would hope.
Take this, for example:
Recent reviews, including a 2016 paper in the Journal of Pain Research and a 2018 review in the Asian Spine Journal conclude that spinal surgery — including discectomies, decompression, and fusions — sometimes "fails to provide relief or provides only temporary relief of the patient's pain."  In fact, this is so common that it's earned its own clinically recognized name: failed back surgery syndrome (FBSS).
According to some data, nearly 1 in 3 spinal surgery patients have the same amount of pain — or even worse pain — 12 months after lumbar surgery.  Overall, spinal surgery boasts about a 50 percent "success rate," and revision surgeries fare even worse.  Only about 30 percent, 15 percent, and 5 percent of people who undergo second, third, or fourth surgeries have "successful" outcomes.
And while medications may be helpful in some cases — especially in acute back pain or back pain related to cancer — the risks of long-term use of medication often outweigh the potential benefits.  In fact, The U.S. Centers for Disease Control and Prevention (CDC) advises non-drug options as the first line of treatment for chronic pain conditions like back pain, according to the American Physical Therapy Association.
So, what might your drug-free, surgery-free back pain solution look like?  Here are the top research-backed recommendations for treating and preventing this common condition:
Weight loss
Exercise (including aerobic, resistance, and aquatic activities)
Physical therapy
Cognitive-behavioral therapy and pain education
Alternative therapies, and especially acupuncture — which is proven to be at least "moderately" effective for chronic low back pain
The most important thing to do when you have chronic back pain?  Stay active.  Bedrest "is not recommended," according to the National Institute of Neurological Disorders and Stroke.
Sources for this article include:
NIH.gov
Medlineplus.gov
BMJ.com
NIH.gov
NIH.gov
ChoosePT.com
CDC.gov