Kids up next: Pfizer pushes for pediatric indication for its controversial COVID jab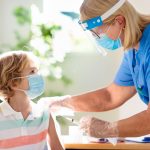 (NaturalHealth365) The United States recently hit a historical milestone.  According to the Centers for Disease Control and Prevention, half of all Americans age 12 and up have now received full doses of a COVID shot – nearly 141 million people.
Meanwhile, COVID shot producer Pfizer-BioNTech is turning its needles toward younger and younger participants, moving full steam ahead despite growing reports of heart inflammation, blood clots, and other adverse events among young adult and teen recipients.
Do the benefits of jabbing kids with experimental shots outweigh the risks? The answer may surprise you
On June 4, Children's Health Defense reported that the U.S. Food and Drug Administration would hold a meeting on June 10 to discuss "the possible licensure" of the experimental COVID injection from Pfizer for use in children.  This hasty push toward injecting as many people as possible comes despite concerning issues.
COVID-19 among children (age 0 to 19) is less common than COVID-19 reported among adults.  Should an infection occur, the under 18 population is much less likely to experience severe illness, boasting a reported survival rate of over 99.9 percent.  (As noted in a 2020 BMJ article, the overall survival rate of COVID-19 is still greater than 99 percent).
The CDC says (presumably in defense of their push to get kids jabbed with the experimental mRNA drug) that children can still carry SARS-CoV-2 and infect others.  But does this justify the potential damage caused by the COVID shot among this younger population?
Just last month, Pfizer released a fact sheet describing the results of a clinical trial of its COVID shot on 12- to 15-year-old children.  In the double-blind study, 1,097 children received both doses of the Pfizer injection, and 1,078 received placebo saline injections.  Of the children who received the investigational drugs, 4 out of 5 experienced side effects, ranging from headaches and joint pain to fever, fatigue, and vomiting.  In almost half of these children, their side effects were considered moderate (393) to severe (7).
Looking at this data differently:
Short-term serious side effects (to say nothing of long-term side effects) following the administration of this drug occurred at a rate of roughly 0.6 percent in kids.  Right now, about 74.2 million people under the age of 18 live in the U.S.  Based on this information, nearly half a million American children would expect to experience serious adverse effects if all kids in the country received this experimental drug.
Currently, Pfizer is running Phase 2 and 3 clinical trials on their money-making drug on kids even younger than 12, including babies as young as 6 months old.
Worth reiterating: once mass injection programs begin, more serious side effects can come to light that aren't captured in clinical trials.  Indeed, we're already seeing this.
Blood clots, heart inflammation, and more – teens and young adults suffer life-threatening effects of COVID shots
Children's Health Defense recently reported that a 17-year-old boy from Utah ended up in the intensive care unit after suffering from blood clots after just one dose of the Pfizer shot.  Dozens of other similar cases are being reported among younger people, including heart inflammation and other cardiovascular problems.
Meanwhile, US health officials continue to bribe people with free beer, ice cream, and donuts to line up for the jab.  These propagandized incentives stand in stark contrast to the known negative effects of sugar and alcohol on the immune system, health advocates say.
In some states, including Alabama, Oregon, Rhode Island, and South Carolina, children will likely be able to get this experimental drug even without parental consent.  No word on whether these children are being provided proper informed consent, at least by being made aware of the potential risks of these investigational drugs.
Sources for the article include:
Childrenshealthdefense.org
Pfizer.com
CDC.gov
MayoClinic.org
Childrenhealthdefense.org
CDC.gov
CDC.gov
BMJ.com
Freewestmedia.com
Stanford.edu
AECF.org