Monsanto lures consumers with toxic "smells that sell"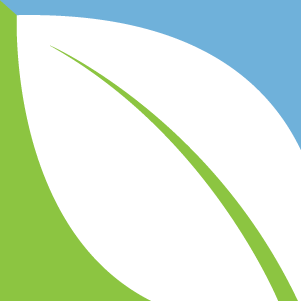 (NaturalHealth365) Having its start in 1901, Monsanto (an international agrochemical and agriculture biotechnology corporation) planted itself in the heart of America – Greater St. Louis, Missouri. While making statements on how they "think holistically" and "help farmers produce food in a sustainable way," this worldwide powerhouse has become the most hated company on earth.
In fact, Monsanto rallies will draw more protesters in a single day than a combination of big oil and dirty energy producers, greedy bankers, and high-tech snoops. To be hated, they didn't have to bankrupt any economies or steal billions in taxpayer dollars. All they had to do was associate themselves with GMOs (genetically modified organisms).
The perfect example of a corporation without a soul
Though crops have changed over time and farmers have naturally altered crops for eons, Monsanto's mad science uses pesticides, chemicals, and other unnatural methods to alter today's crops. Numerous studies have proven GMOs to be harmful to health, and only in recent decades have consumers realized the dangers of Monsanto.
However, Monsanto's sneaky tactics have been around for much longer. In fact, their "Chemicals and Plastics" branch openly advertised their "smells that sell" campaign in the mid-1940s. Believe it or not, Monsanto was actually proud back in those days by exploiting consumers – something they try to hide nowadays.
Monsanto uses toxic chemical scents to get uneducated consumer to buy their products
Monsanto has been luring consumers into buying their products for nearly 100 years with their "flavors and aromas that sell." Included are toxic ingredients that actually earned Monsanto respect at one time, especially by the food industry.
Notice the following ad printed in 1947. It didn't hesitate to mention their agenda – one that is not spoken about today:
"Used for years to contribute sales appeal to foods, candies, perfumes, cosmetics, Monsanto flavor principles are today doing a selling job of many new fronts. Not only do they add intriguing flavors and fragrance; often they are used to remove objectionable odors…"
At the bottom of the ad, they even list chemical compounds that have sweet odors but are toxic – some being highly toxic.  In fact, these toxins are listed in the "Toxic Substance Portal" at the United States Agency for Toxic Substances & Disease Registry (ATSDR).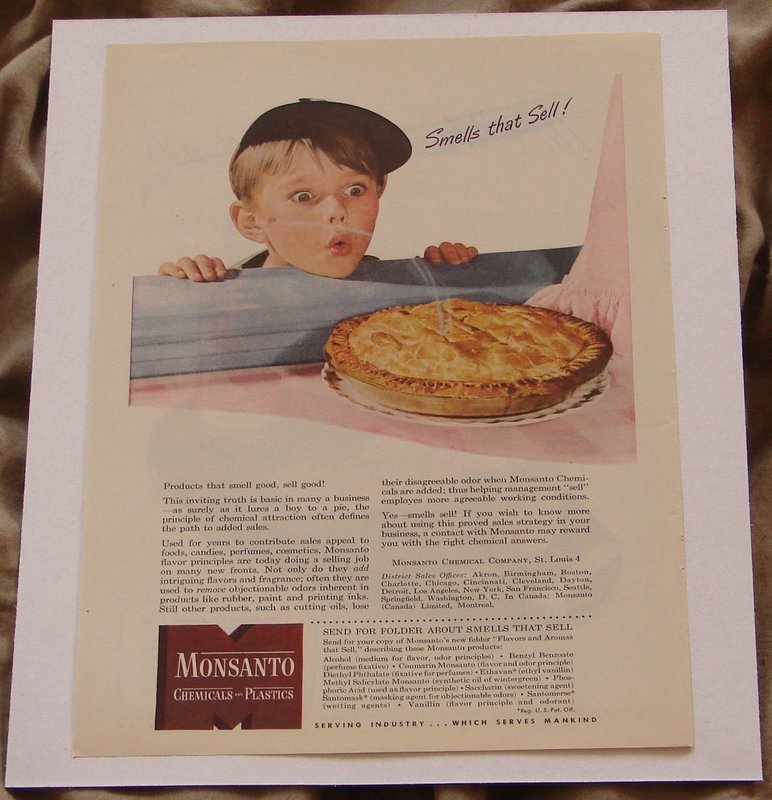 Why doesn't Monsanto use real ingredients instead?
While vanilla, peppermint, and other ingredients would promote natural aromas (and flavors), it's more expensive for Monsanto and other large food industry corporations to use them. Unfortunately, big business is more concerned about their bottom line, not public health.
In the mid-1940s, Monsanto's Chemical and Plastics Division was proud that they could entice consumers to buy their products solely on the sense of smell. In the 1947 ad that was presented earlier in this article, they state:
"… the principle of chemical attraction often defines the path to added sales."
While it's not news to most of us who understand the ultimate goal of Monsanto, it does prove a point to those who have been confused by large food manufacturers like Monsanto. They really do care more about their financial bottom line than the health of their customers.
About the author: Abby Campbell is a medical, health, and nutrition research writer. She's dedicated to helping people live a healthy lifestyle in all aspects – physically, mentally, emotionally, and spiritually. Abby practices, writes, and coaches on natural preventive care, nutritional medicine, and complementary and alternative therapy.
References:
https://www.atsdr.cdc.gov/substances/toxsubstance.asp?toxid=112
https://www.sciencedirect.com/science/article/pii/S0278691513008557