Pandemic was a Trojan Horse for the COVID-19 jab, according to frontline doctor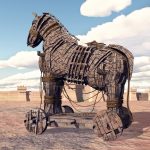 (NaturalHealth365)  Mandating the COVID shot (a drug with NO long-term safety data) for young schoolchildren, threatening the loss of employment, professional licensure, and movement in a free society for not getting a medical procedure, and other egregious coercive threats are now commonplace in pandemic-era America.  Meanwhile, media and government officials seem bent on gaslighting the public, insisting that getting as many people injected with the mRNA jab as possible is the only way out of this pandemic.
While you may disagree with her opinion, one doctor recently shared her alternative perspective on the current pandemic crisis.
"The whole pandemic was a Trojan Horse:" Houston doctor sounds off on global push for COVID shot, says "sinister" things are happening
In an October 2021 interview with The Gateway Pundit, controversial frontline Houston doctor Dr. Stella Immanuel, who is also a pastor, says she believes that the "whole pandemic was a Trojan Horse for vaccines," in a nod to the famous Greek tale that is today used to depict malicious efforts to secretly undermine an individual or group of individuals using what appears to be legitimate means.
"From day one, I've always said it," Dr. Immanuel continues, "[COVID-19] is completely treatable, and it's completely preventable, and there is no reason for you to be giving a vaccine for a disease that's completely treatable, and completely preventable."
The Cameroon-American doctor believes that these vaccines are causing people to be "genetically modified" and that mainstream officials have in the meanwhile worked tirelessly to suppress promising COVID therapeutics like ivermectin and hydroxychloroquine. "They want to scare 7 billion people, and they want all of us to get jabbed, they want all of us to get corrupted."
Dr. Immanuel also calls into question the obvious hypocrisy that has been rampant throughout the pandemic when she says: "People in the White House are not being mandated, employees of the CDC are not being mandated, a lot of Democratic lawmakers are not being mandated to get vaccines, and people that work for Pfizer are not being mandated.  Why is the general public being mandated?  Why are they trying to give vaccines to children that barely get COVID?"
"There's a very sinister thing going on," the doctor continues, "and the reason why it's going on and on is because we comply."
Meanwhile, in China:  Evidence mounts that COVID-19 was circulating in the Asian country LONG before Chinese officials gave word of the pandemic disease
The lab leak theory for the origins of COVID-19 used to be labeled a conspiracy theory, yet now it has serious consideration among scientists and medical experts.
Today, we continue to see unfolding questions coming out of China.  Media outlets are currently reporting that an Australian cybersecurity company had provided evidence that COVID-19 "was spreading virulently in Wuhan" in the summer of 2019, MONTHS before Chinese officials reported the outbreak to the world.
The Australian company, Internet 2.0, published data suggesting that there was a "notable, significant and abnormal" increase in PCR tests purchased in the latter half of 2019, mainly by four institutions: the People's Liberation Army Airborne Army Hospital, the Wuhan Institute of Virology, the Wuhan University of Science and Technology, and the Hubei Province Districts Centers for Disease Control and Prevention.
Perhaps unsurprisingly, China's Foreign Ministry has disputed this data.
Sources for this article include: