The END of COVID mandates: Did a Canadian patriot's fight in court help people living in Alberta?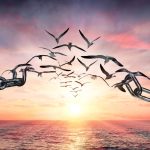 (NaturalHealth365) In less than two years, the COVID pandemic mitigation strategy has gone from "two weeks to slow the spread" to "If you want to participate in our society fully, you've got to get vaccinated" (a direct quote from NYC Mayor Bill de Blasio).
Today, as medical rights advocates continue to make their voices heard and protest injection "passports" in the name of bodily autonomy, some recent news out of Alberta, Canada may offer some hope to freedom fighters.
"All public health measures have been lifted" in Alberta, Canada:  Did this freedom fighter's case pave the way to this massive shift?
Canadian Patrick King was recently fined $1,200 over violating a so-called COVID-19 order under Canada's Public Health Act.
According to video coverage about the case uploaded to Rumble.com, Mr. King then issued a subpoena to the chief medical officer of health (CMOH) for Alberta, Dr. Deena Hinshaw, requesting proof that the SARS-CoV-2 virus has been isolated.
Citing court records that state "The CMOH Has No Material Evidence," Mr. King claims this proves the Albertan government couldn't prove the virus has ever been isolated, and therefore never had any legal grounds to impose COVID restrictions.  As a result, King and supporters say, Alberta lifted nearly all of its COVID restrictions and now views COVID-19 as nothing more than a "mild flu."
Mainstream media tells a very different story of how this went down.  In an August 7 article published by Reuters, the office of the health minister of Alberta says that the phrase, "The CMOH Has No Material Evidence," refers to the fact that Dr. Hinshaw "did not possess material evidence relevant to the matters that would be decided at the trial."
In the Reuters article, a representative from the office of the health minister of Alberta adds, "It is false to claim there is any relationship between the decision on the subpoena and the lifting of public health measures."  Mr. King's subpoena was allegedly rejected, and the man was ordered to pay the $1,200 fine.
Whatever the truth may be, the fact remains that "All public health measures have been lifted," according to government officials in Alberta.
You can watch the video coverage about Alberta's dropped mandates and Mr. King's case here:
Here are the freedoms Albertans are now enjoying in Canada – ask yourself whether these freedoms should ever have been restricted in the first place
While announcing the dropped COVID mandates, Dr. Hinshaw claimed that the decision was driven by a need to scale back COVID-19 resources, so the province can "manage other illnesses as well" in the upcoming fall season.  In consequence, here are a few major changes happening in the province, according to the Alberta government's website:
Mask use in public indoor settings is no longer required, except when visiting certain continuing care facilities (e.g., nursing homes)
As of August 16th, mask use for public transit will no longer be required
Provincial quarantine rules for returning international travelers are lifted
Close contacts of a person with COVID-19 will not be legally required to quarantine (individuals with confirmed cases of COVID-19 and symptoms will need to isolate, however)
As of August 16th, the 10-day isolation period following a positive test result will no longer be mandatory
All asymptomatic COVID-19 testing will no longer be recommended, and as of August 16th, "Albertans who feel unwell or who have COVID-19 symptoms should stay home and limit contact with others until they are back to normal.  Testing will no longer be recommended for those with mild symptoms for whom a result will not change their treatment."
Lastly, "All other public health measures have been lifted," including restrictions on:
social gatherings (no more capacity limits, both indoors and outdoors)
Recreation, performance, and entertainment activities
Business closures and capacity restrictions
Large events, including concerts, sporting events, exhibitions, and festivals
These are huge changes happening in Alberta – it's worth wondering why mainstream media isn't reporting on it.
Do you live somewhere with a COVID mandate or restriction in place?  Have local officials made any changes to these restrictions recently?
Sources for this article include:
Rumble.com
Reuters.com
Reuters.com
Alberta.ca
JCCF.ca
Realclearpolitics.com