Confidential files from GlaxoSmithKlein detail heartbreaking connection between SIDS and childhood injections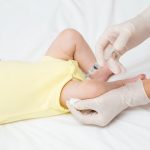 (NaturalHealth365) Sudden infant death syndrome (SIDS) is a heartbreaking tragedy that touches thousands of American families every year.  Boston Children's Hospital defines the "sudden and unexplained death of a baby younger than 1 year old," SIDS is yet to be fully understood, and its exact causes are unknown.
But despite what fact-checkers claim, there is evidence to suggest a causal link between childhood injections and SIDS, at least in some cases.  Indeed, a 2011 confidential report from billion-dollar pharmaceutical company GlaxoSmithKline shares some of this evidence in great detail – along with hundreds of other troubling drug side effects.
Confidential files from major Big Pharma company detail thousands of adverse effects, including 13 cases of SIDS, following routine childhood injections
The files are part of GlaxoSmithKline's (GSK) Biological Clinical Safety and Pharmacovigilance report on their drug known as Infanrix Hexa – a combined Diptheria Tetanus and Acelluar Pertusis, Hepatitis B, inactivated Poliomyelitis and Haemophilus influenza type B shot.  Children are expected to receive 3 doses of Infanrix Hexa – at age six weeks, 3 months, and 5 months.
The report, released to the public by the Italian Court of Justice Nicola Di Leo, contains over 1,200 pages of adverse side effects reported in children and infants following routine injections.  Notably, the data included in this report spans just two years – from October 2009 to October 2011.
"In the reporting period," writes one medical doctor in his analysis of the report, "one must conclude that Infanrix Hexa vaccine could have been responsible for at least 69 [infant] deaths."  Referring directly to the GSK data, Dr. Jacob M Puliyel says it points to "a clear relationship of 'sudden death'" and the shots.  He notes:
42 deaths occurred within the first three days post-jab
16 deaths occurred between day 3 and day 5
3 deaths occurred between day 6 and 8
2 deaths occurred between day 9 and 11
2 deaths occurred in all the remaining 10 days post-jab
"The fact that rate of deaths decreases rapidly and continuously as time elapses after the day of immunization," Dr. Puliyel says, "is clear that the deaths are related to the [injection] episode."  The babies who died as a result of these injections passed away of SIDS or other complications, including meningitis, sepsis, and severe hypoxic-ischemic encephalopathy (cerebral palsy leading to quadriplegia and microcephaly).
In some situations, a family history of post-jab death was also evident.  For example, while discussing the case of a 2 month-old girl who died 24 hours after receiving Infanrix Hexa, GSK notes that the "subject's brother died 2 years ago" also after getting an injection.
More shocking admissions can be found throughout the GSK report.  A warning to anyone who wants to read it: many details are graphic and may be disturbing.
In light of confidential Pharma documents, the 2020 decline in SIDS cases is especially telling – will public health officials report on this?
Even with harrowing reports like these from pharmaceutical companies, it's still taboo to seriously inquire about the possible link between childhood injections and SIDS or any other type of unexpected childhood death.  If one does, they will be accused of spreading false information or labeled with the degrading and dismissive term "anti-vax."
Yet despite this gaslighting, more people are starting to stand up and connect the dots.
Just last year, the BMJ published an editorial called "Routine vaccination during COVID-19 pandemic response," in which the authors worried about the reduced rate of childhood immunizations during the pandemic.  But at the same time that the rate of childhood immunizations dropped, the number of child and infant deaths dropped, too.
In a June 2020 response to the BMJ editorial, retired pediatrician Dr. Allan S. Cunningham shares this data from the CDC:
During the first 11 weeks of 2020, there were 209 fewer deaths in US children compared to the same period in 2019 (7,024 vs. 7,233)
During the 11-week period following the emergency declaration (through May 30), there were 1,465 fewer deaths in US children compared to 2019 (5,923 vs. 7,388)
This is a "statistically highly significant" difference.  Furthermore, anecdotal evidence from the BMJ editorial also noted that ER doctors saw fewer SIDS cases during this time.
This warrants further investigation into the possibility of a causal link between SIDS and childhood injections, Dr. Cunningham states, adding that "American pediatric officials have steadfastly dismissed any role for [injections] in the causation of SIDS, based on a selection of observational studies.  Nevertheless, until properly controlled trials are done, we will be unable to confirm or exclude a causal role for [injections]."
What do you think?
Sources for this article include:
Jacob.puliyel.com
Autismoevaccini.files.wordpress.com
Childrenshealthdefense.org
Medsafe.govt.nz
BMJ.com
CDC.gov
BMJ.com
Childrenshospital.org
Immune.org