'Lockdowns are a big mistake:' World Health Organization and other experts now ADMIT global economic shutdowns for COVID-19 are WRONG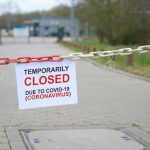 (NaturalHealth365) In a reversal few saw coming but most understand, officials from the World Health Organization (WHO) has finally condemned the global economic shutdowns.  Far from saving people's lives, these shutdowns have in their estimation caused "irreparable damage" to citizens of the world – especially the most vulnerable among us – and have sparked a concerning upward trend of poverty and mental health issues.
The concern is so widespread and severe that epidemiologists from Stanford University, Oxford University, and Harvard University have put together a petition calling to finally end the unethical madness of COVID lockdowns.
WHO ADMITS: COVID lockdowns made "poor people an awful lot poorer" and may double the rates of malnutrition
In an interview with British media outlet The Spectator, Dr. David Nabarro of the WHO admitted that "we…do not advocate lockdowns as the primary means of control of [the novel coronavirus pandemic]."
Are you surprised, Governor Newsom and Governor Cuomo?!
According to Dr. Nabarro, an unavoidable consequence of the lockdown has been "making poor people an awful lot poorer….It seems that we may well have a doubling of world poverty by next year. We may well have at least a doubling of child malnutrition."
He cites economic devastation in regions like the Caribbean as examples of the profound mess lockdowns and travel restrictions have caused.
Mental health consequences of these ill-advised and protracted shutdowns cannot be ignored, either. For example, the U.S. Centers for Disease Control and Prevention (CDC) announced in August that there were "considerably elevated adverse mental health conditions associated with COVID-19," with fully 40% of American adults struggling with worsening mental health, increased thoughts of suicide, and increased use of drugs and alcohol.
"The only time we believe a lockdown is justified," Dr. Nabarro continued in The Spectator, "is to buy you time to reorganise, regroup, rebalance your resources, protect your health workers who are exhausted, but by and large, we'd rather not do it."  And as battered as the WHO's reputation may be, their concerns are fully supported by a growing collection of international experts from the fields of epidemiology, finance, public health, psychiatry, and more.
"The Great Barrington Declaration" makes these key points about ending the economic shutdowns … can we call on our local and national leaders to pay attention?
Spearheaded by Ivy league professors, a petition called the Great Barrington Declaration is making its rounds and currently features over 40,000 signatures. It calls to end the current lockdown policies which "are producing devastating effects on short and long-term public health."
Here are a few key points from the petition:
The lockdowns are contributing to "worsening cardiovascular disease outcomes, fewer cancer screenings and deteriorating mental health," among other issues – the effects of which will be felt for years to come
COVID-19 is less dangerous for children than the seasonal flu (which the CDC isn't even surveilling right now, according to their website); it follows that keeping kids out of school is considered a "grave injustice"
Indeed, continuing the lockdown for everyone is unconscionable – extracurricular activities, schools, restaurants, and businesses should be open and "those who are not vulnerable" (that is, anyone who is not old or chronically ill) should be "immediately" allowed to "resume life as normal"
Lastly, say what you will about "herd immunity," but an important point should not be lost here: this cohort of the world's leading epidemiologists and physicians admit that building of coronavirus immunity throughout the population is "not dependent" on a vaccine.  Therefore, holding the world hostage until a vaccine is available is simply not the way to minimize deaths and social harm.
Time will tell when world leaders will finally pay attention and heed these dire warnings.
Sources for this article include:
Infectioncontroltoday.com
CDC.gov
GBDeclaration.org
News.com.au
CDC.gov