NH365 050: Disease solutions – The missing link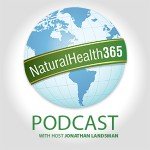 (NaturalHealth365) What happens when a healthy diet and lifestyle habits are not enough to avoid pain and disease?
Today, on the NaturalHealth365 Podcast, we'll talk to Dr. Christopher Hussar about the connection between problems in the mouth and chronic diseases like arthritis and cancer. I must warn you – the information you're about to hear can be quite alarming, if you're new to this information, but rest assured there is a solution and ignoring oral health issues will no longer be an option – after you hear this program.
Dr. Hussar received his dental degree from University of Detroit Dental College, Michigan in 1978 and his D.O. degree from Michigan State University College of Osteopathic Medicine in 1986. With 2 professional degrees, Dr. Hussar occupies a unique niche in Medicine. Although no longer practicing dentistry, most of his practice involves patients who are having health problems related to chronic oral infections.
Western medicine ignores a major reason why so many people suffer in pain
For 30 years, Dr. Hussar focused on treating chronic pain disorders as a result of oral health problems. In fact, the majority of his practice consisted of performing oral surgical procedures designed to eliminate diseased bone and teeth from the jaws of sick patients with remarkably positive results.
This is an emotionally-charged, educational program about why people – to this day – remain untreated for chronic pain.  In reality, it's a medical tragedy – largely ignored by close-minded healthcare providers.
By the way, if you're planning on getting dental work done or feel a past visit to the dentist has caused you pain – be sure to register for the "Holistic Oral Health Summit" – which features 33 of the world's top experts talking about how to improve oral health, prevent and reverse disease symptoms, plus – this event – will save you thousands of dollars in unwanted medical expenses.

Links related to the show:
Subscribe to the NaturalHealth365 newsletter to receive lots of great health gifts + the latest news and information on natural health solutions.
Program highights:
What is a dry socket?
Why would a previous extraction site still cause pain?
Should all wisdom teeth be removed?
Are all root canals dangerous to our health? If so, why?
Can oral infections cause systemic diseases like, arthritis and cancer?
Dr. Hussar issues a final warning for every health-conscious person.