Pfizer modifies formulation of its COVID jab for 5 to 11-year old kids, adds ingredient used to stabilize heart attacks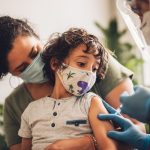 (NaturalHealth365)  This week, American parents witnessed the U.S. government give the full go-ahead for the Pfizer mRNA COVID shot for kids aged 5 to 11.  The public has been told that this injection has been specially formulated for children and contains a "lower dose" – just 10 micrograms of the ingredients compared to 30 micrograms for people aged 12 and up.
But these COVID shots for under-12 kids contain ingredients that have nothing to do with "preventing" COVID – including one substance frequently used in people who have had heart attacks.  So, could this be an attempt by Big Pharma to prophylactically mitigate jab-related cardiac arrest in innocent young children?
Pfizer adds NEW ingredient to COVID shot for kids aged 5-11 that is commonly used to manage severe electrolyte imbalances following heart attacks
As heavy propaganda for mass injection continues – Big Bird from Sesame Street got his COVID shot this week, he announced to his viewers – we now know that Pfizer added a chemical called tromethamine (Tris) to its formulation for the shot for kids.
According to its Safety Data Sheet, there is no data available on Tris regarding neurotoxicity, mutagenicity, reproductive effects, and teratogenicity.  The Cleveland Clinic explains that tromethamine is typically used to make blood and urine less acidic.
This is important in the treatment of a condition called metabolic acidosis, a type of electrolyte imbalance in which "the body produces too much acid or when the kidneys are not removing enough acid from the body."
Importantly, metabolic acidosis is a common complication following heart attacks.
Side effects of tromethamine, which is typically given as an injection, include:
Dark-colored urine
Confusion
Malaise, unusual fatigue, and flu-like symptoms
Rapid heartbeat
Light-colored stools
Pain at the injection site
Sweating
Pain in the right upper abdomen
Yellowing of the eyes and skin (jaundice)
Dizziness
Increased hunger
Nausea
Anxiousness
In other unusual timing:  FDA just approved the first oral blood thinner for kids
This past June, the FDA approved Pradaxa, the first oral blood thinner for kids aged 3 months to 12 years old.  Produced by Boehringer Ingelheim Pharmaceuticals, Inc, Pradaxa can be used to treat kids with venous thromboembolism (blood clots in the veins – a common cause of heart attack).
Close attention is needed in the coming months and years.  According to the U.S. Centers for Disease Control and Prevention, approximately 13.4 deaths per 100,000 occur among kids aged 5 to 14 in this country.  Additionally, the estimated prevalence of heart conditions among U.S. children aged 0–17 years, according to the 2016 National Survey of Children's Health (NSCH), is 1.3%.
The American Heart Association also notes that rates of stroke among children have remained "steady" in recent years.  But, only time will tell, will numbers like these change?
A controversial risk-benefit analysis by a man named Tony Rogers, who holds a PhD in economics and used Pfizer's own trial data to support his claims, suggests that for every one child "saved" by the COVID shot, another 117 would be killed by the shot.
No doubt, time will tell whether the data will support this dire prediction.
Sources for this article include:
Citizenfreepress.com
CDC.gov
Clevelandclinic.org
Healthychildren.org
Biospectra.us
FDA.gov
CDC.gov
Skirsch.com
Earthnewspaper.com
FDA.gov
Kaiserpermanente.org
Delaware.gov
Stevekirsch.substack.com