CDC uses PROPAGANDA claiming jab immunity is better than natural immunity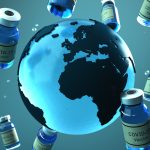 (NaturalHealth365)  When social media giant Instagram banned the hashtag #naturalimmunity – and when Big Bird announced to kids that he had received his COVID shot – any doubt over whether propaganda was driving the pandemic could safely be put to bed.
Recently, the U.S. Centers for Disease Control and Prevention (CDC) added to the fight against natural immunity by citing a study claiming that immunity from the jab is better than immunity from natural infection with SARS-CoV-2 – despite ample evidence suggesting the latter.
CDC claims new study shows COVID shot offers better protection than natural immunity
In August, CDC Director Dr. Rochelle Walensky pleaded with the public: "If you have had COVID-19 before, please still get vaccinated …. Getting the vaccine is the best way to protect yourself and others around you; especially as the more contagious Delta variant spreads around the country."
Her reasoning?  The CDC recently released a study that the CDC itself sponsored along with the Kentucky Department for Public Health, which concluded that unjabbed people who had recovered from COVID-19 were twice as likely to be reinfected compared to people who were fully jabbed after they recovered from the virus.
"These data further indicate," the CDC insists on their website, "that COVID-19 vaccines offer better protection than natural immunity alone and that vaccines, even after prior infection, help prevent reinfections."
This study from the CDC had fewer than 300 participants (matched to around 450 controls).  It also offers an entirely different conclusion than other data, including a much larger Israeli study which found that jabbed individuals who had never been infected with SARS-CoV-2 were 13 times more likely to get a "breakthrough" infection with the Delta variant compared to unjabbed people who had previously been infected.
"This study demonstrated that natural immunity confers longer-lasting and stronger protection against infection, symptomatic disease and hospitalization caused by the Delta variant of SARS-CoV-2" compared to the two-dose Pfizer shot series, the preprint study says.
(Perhaps it's no wonder that officials have been so quick to push the booster shot on everyone since evidence suggests two doses simply aren't good enough.)
Let's take this into context:
There is conflicting evidence over whether a COVID shot actually prevents future infection better than simply getting and recovering from the disease itself.  There is also conflicting evidence about the safety of the shots – and officials continue to shift the narrative, first saying that the shots would prevent transmission and later simply saying that they will prevent hospitalization and death.
Meanwhile: fast food, donuts, beer, money, even free entry to a brothel – these are just a handful of the bribes global officials have offered to their citizens in exchange for consenting to the COVID shot.  But are people truly consenting if they have to be bribed, coerced, or shamed into it?
Meanwhile:  CDC admits they have no proof that unvaxxed people are spreading COVID-19 after recovering from a previous infection
If the CDC believes there is sufficient, unbiased evidence to claim that shots offer better protection against the Delta variant than previous infection with SARS-CoV-2, why can't they prove that unvaxxed people are getting reinfected and spreading the disease?
Here's the scoop:
On September 2, 2021, the New York-based law firm Siri & Glimstad filed a Freedom of Information Request Act (FOIA) to the CDC, requesting proof of even one recorded incident of an unvaxxed person who had previously recovered from COVID-19 becoming reinfected and then transmitting the virus to someone else.
On November 5, 2021, the CDC responded.  The government agency admitted that it had NO record of an unvaxxed person spreading COVID after having previously recovered from COVID-19.
They state this information is "not collected."  But if they aren't collecting this sort of information – and if we know that breakthrough infections are occurring among vaxxed people – how can they so strongly claim that natural immunity isn't as good as immunity conferred from the shot?
Sources for this article include:
SWFinstitute.org
Medrxiv.org
CDC.gov
CDC.gov
Clarkcountytoday.com
NBCnews.com