COVID jabs may harm and even kill children, VAERS report suggests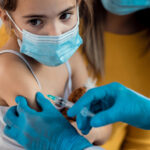 (NaturalHealth365)  The risk of children becoming severely ill or dying from COVID-19 is – thankfully – exceptionally low.  Of the children that do end up suffering severe or even fatal COVID-19 complications, it seems, quite unfortunately, that a large proportion of these children were not healthy, to begin with.  One recent retrospective study published in the Pediatric Infectious Disease Journal looked at 450 children admitted to Children's Hospital Colorado with COVID-19, and found that along with being 3 months old or younger, preterm birth history, immunocompromise, and comorbid health issues including diabetes, asthma, gastrointestinal conditions, and elevated C-reactive protein levels (a marker of inflammation in the body) are all associated with an increased risk of hospitalization, the need for critical care, and/or the need for respiratory support among kids diagnosed with COVID-19.
Now, what about the children who end up experiencing severe side effects from the COVID jabs?  Can even previously healthy children suffer heart inflammation and other serious issues following the COVID jabs?  And last but not least: will our kids' health really genuinely be improved by adding yet another series of shots to the U.S. Centers for Disease Control and Prevention's vaccine schedule for kids?
Nearly 50 American kids have died soon after being injected with COVID shot – could more be in harm's way?
The Vaccine Adverse Event Reporting System (VAERS) is the United States' passive vax safety surveillance system.  Knowingly filing a false report is illegal.  Healthcare providers are also required by law to report the following to VAERS after injecting people with COVID-19 shots:
Vaccine administration errors
Cases of post-jab Multisystem Inflammatory Syndrome (MIS)
Serious adverse effects including congenital anomalies, birth defects, a "persist or significant incapacity or substantial disruption of the ability to conduct normal life functions," death, and cases of COVID-19 that result in hospitalization or death ( … but we thought the shots were supposed to prevent that?)
It is important to remember that VAERS reports do not necessarily prove causation (i.e., VAERS data can't definitively say that "the COVID shot caused this reaction/death").  VAERS reports only serve to help identify potential safety concerns and patterns that might suggest a potential danger or risk of a given shot.  We can only trust that those at the CDC and other organizations are doing their due diligence to comb through the VAERS data and actually identify such safety concerns if they exist … and it would certainly seem like they do.
For instance: in the very short amount of time that the COVID jabs have been administered to kids in the United States, VAERS has logged 45 reports of children dying after getting the COVID vax.  According to an analysis by Expose News, 60% of these now-deceased children were completely healthy beforehand, and three of these kids were actually involved in COVID shot clinical trials.
In the same amount of time, VAERS has also recorded 1,892 reports of serious adverse events, up to and including emergency room visits, hospital admissions, birth defects, and permanent disability.
Interesting, isn't it, that in the past, reports of just one or two dozen deaths shortly following a jab would trigger major safety concerns?  Just look back at what Dr. Paul Offit admitted was "one of the worst biological disasters in American history: a man-made polio epidemic." He is referring to the tainted batch of polio vaxxes that were given out in 1955, resulting in 51 children paralyzed and 5 children dead.
To think that just five deaths – and to be sure, five is still far too many – triggered such alarm from the government medical community (granted, these deaths came from a relatively smaller cohort, as only 40,000 kids received the tainted doses).  And yet we now have nearly ten times as many pediatric deaths reported with temporal proximity to a COVID shot … and the three-letter agencies are still insisting that parents expose their healthy children to these drugs.
Remembering these kids: Meet the first child who died shortly after getting jabbed
We share a brief look at the first child who reportedly died (the first, as far as we know) after getting a COVID shot.
Her name was Kamrynn Thomas.  She was a 16-year-old teenager from Wisconsin.  Less than two weeks (11 days) after getting injected in March 2021, Kamrynn passed away.
According to reports, hospital records revealed that she suffered cardiac arrest in her home, was admitted to the hospital, and later developed large pulmonary emboli (blood clots in the lungs), which proved to be fatal.  While Kamrynn was reportedly taking several prescription medications, including corticosteroids for asthma, SSRI for depression, and oral contraceptives, she had no other prior medical history.
In her obituary, Kamrynn was said to have a smile that "lit up every room" and a personality "like a blooming sunflower."
Sources for this article include:
NIH.gov
HHS.gov
Psychiatryonline.org
LWW.com
Reuters.com
Substack.com
NHS.uk
KFF.org
Weremember.com