Millions of Americans say NO to COVID shots, CDC data reveals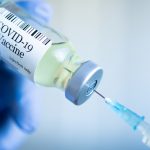 (NaturalHealth365)  If you and your loved ones have abstained from the COVID shots, please note that you are NOT alone – despite what mainstream messaging says.  We truly have witnessed unprecedented levels of social shaming, stigmatizing, ostracizing, and coercion from public health officials, government officials, Big Pharma talking heads, employers, and more surrounding the gene-based COVID vaxxes.
The injections that were initially sold to us as the "only way to end the pandemic" and later (magically) transformed into a shot that is only meant to prevent severe illness and death from COVID-19 (nevermind that the majority of people who get COVID-19 will not experience severe illness nor death, anyway).  And despite all the threats, stress, and propaganda, millions of Americans continue to exercise informed consent and make a different choice for themselves and their families.
NOT BUYING IT: CDC data reveals nearly three-quarters of Americans are not "up-to-date" on COVID shots
Remember when U.S. politicians lied to the public last summer – falsely claiming 'you're not going to get COVID if you have these vaccinations' and 'if you're vaccinated, you're not going to be hospitalized, you're not going to be in the ICU unit, and you're not going to die?'  Interestingly, this blatant misinformation – which politicians never retracted and were never deplatformed for – is just one example of the barrage of propaganda that the mainstream narrative has pushed during the pandemic.
Not only was it your duty to yourself and others to get the shot, we were told, but somehow it is socially acceptable for people to demand that you tell them your vax status and that if you're not vaxxed, then you're "selfish" and in the "fringe minority," to borrow a couple negative remarks from the Canadian Prime Minister.
Yet, according to the latest figures from the COVID data tracker, published by the U.S. Centers for Disease Control and Prevention (CDC), nearly 1 in 4 (22 percent) of Americans have NEVER received a single COVID shot.  Likewise, another 157 million Americans have declined the second or third dose of the mRNA jab.  (As teased out by Expose News, 38 million Americans who had the first COVID dose did NOT receive the second dose, and a whopping 119 million people who had a second dose did NOT roll up their sleeves for the third dose.)
What this means is that about 70 percent of the U.S. population is not considered "fully vaxxed" against COVID-19.  Again: you are NOT alone if you have declined any or all of these gene-based jabs!
(Of course, the term "fully vaxxed" has quickly become passé according to public health officials, who seem to prefer the much blurrier term "up-to-date." Quite the implication, isn't it – that no one can ever actually be "fully vaxxed," only in compliance with the latest demands from Big Pharma and Big Government.)
Have you ever wondered what informed consent actually is?  Here's a basic primer on this essential medical right
According to a StatPearls article published in the U.S. Library of Medicine, "informed consent is the process in which a healthcare provider educates a patient about the risks, benefits, and alternatives of a given procedure or intervention."
Referred to as an "ethical and legal obligation" of American medical practitioners, informed consent ultimately "originates from the patient's right to direct what happens to their body." It adds, "[i]nformed consent is a collaborative process allowing patients and healthcare providers to make decisions together when more than one reasonable alternative exists, accounting for the patient's unique preferences and priorities and the best scientific evidence available."
Informed consent means you have the right to decline treatment, ask questions, make your own choice about your body, even if other people disagree, and nowhere does it make room for coercion, shame, and guilt.
Sources for this article include: