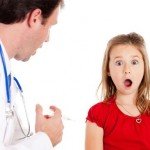 (NaturalHealth365) California's push for mandatory vaccinations in 2016 with bill SB-277 was alarming enough. Now the state is seeking to restrict parental rights when it comes to any and all decisions regarding the health and well-being of children.
It's probably not too surprising to most that the same legislator behind the SB-277 mandatory vaccination bill is behind this current action. The new SB-18 bill introduced by Senator Richard Pan seeks to move parental rights and even physical custody of children over to the government if the state deems family decisions related to healthcare as "not in the child's best interests."
Parental rights under attack: Vague language leaves door open to invasive state actions
Both bills from Senator Richard Pan assessed together look like an all-out assault on the freedom of choice of families regarding decisions about vaccinations. The SB-18 bill also seems deliberately confusing in its acknowledgement of existing laws designed to protect the health of children. On the surface, the bill appears to be promoting a good thing: the well being of children.
However, there is also troubling language about the need for the state of California to strive to achieve a goal of creating an "optimal environment" for the development of children. The bill couches its agenda to usurp parental rights under the guise of acting in the best health interests of children.
The new Pan bill outlines seven rights of children and families, but all of them are either obvious, vague or redundant. The nebulous language in the bill leaves plenty of room for the state to insert itself into the process of determining what type of care children should and shouldn't receive.
An assault on the rights of California families
It is the open-endedness of the bill that disturbs opponents the most. The language seems to leave interpretation wide open to whoever enforces it, and this could include a trampling of parental rights. For example, home schooling or a lack of vaccinations could be potentially defined as "not in the best interests" of a child under this type of law.
This new California bill clearly seeks to move decisions related to child raising out of the realm of parents and into the hands of the state. The bill could also open the doors to the creation of even more laws, taxes and programs related to this agenda.
The movement of legislation in this direction threatens the rights of families. Unchecked, it could begin to erode the independence, rights and sovereignty of all individuals. Californians still have a little time to prevent this from happening. If the SB-18 bill passes, it is not set to be fully activated in California until the year 2022.
In the near term, the health and well being of children forced to receive vaccines is at stake. Let's hope Californians send a message to Senator Richard Pan that this assault on human rights is not acceptable.
References:
https://leginfo.legislature.ca.gov/faces/billTextClient.xhtml?bill_id=201720180SB18
/naturalnewslinks/2017-01-12-californian-senator-richard-pan-pushing-to-outlaw-parental-rights-in-all-medical-decisions.html