Australian woman recounts TERRIFYING experience at COVID quarantine camp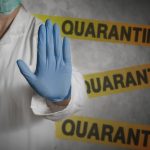 (NaturalHealth365)  Earlier in the pandemic, the idea of a forced quarantine and relocation "camps" sounded no more than the warnings of conspiratorial mind.  In fact, you wouldn't believe how many of our readers were telling us that we were 'crazy' to suggest such a thing.
But, as we've seen in Australia, the consequences of not getting the COVID shot have become dire.
Woman "treated like a criminal" in disturbing quarantine camp in Australia
Australia has become notorious for having some of the world's strictest COVID-19 lockdown policies in the world.  Just within the past few months, the Australian state of Victoria began implementing a pilot program in which people forced to quarantine at home would be randomly called, then required to send a selfie within five minutes proving they are where they're supposed to be (the quarantine tracking app also uses geolocation – essentially tracking citizens with facial recognition and GPS).
But forced quarantine at home is one thing – being forced to stay at a quarantine "camp" without ever testing positive for COVID-19 is an entirely different level of concern.  This is reportedly what happened to Hayley Hodgson, a 26-year-old Australian woman who was detained against her will at a COVID quarantine detention center in Howard Springs.
You can watch Hayley tell her story in this interview below:
This is what medical tyranny looks like
In a recent interview with journalist Freddie Sayers, Hodgson claims that after a friend of hers tested positive for COVID-19, she (along with anyone else who had contact with this person) was tracked down by police, who used traffic cameras to identify her location by capturing her license plates.
"Police didn't give Hodgson the option to test for COVID," Children's Health Defense reports on their website, "but instead forced her into the camp under the threat of a $5,000 fine.  She ultimately tested negative three times, but was still detained for the [entire] 14-day period."
Quarantine, as the U.S. Centers for Disease Control and Prevention (CDC) describes, "separates and restricts the movement of people who were exposed to a contagious disease to see if they become sick."
While in quarantine, Hodgson would have faced an additional $5,000 fine just for stepping off the balcony of her quarantine "dorm."  Hodgson, who described her experience as "inhumane," captured this interaction on film.
In her footage, you can hear a worker at the quarantine facility saying that he's only following orders and that "Whether it makes no sense, or doesn't seem right to you, that's what the law is."
A sign of what's to come for the U.S?
Many have questioned whether widespread use of these quarantine camps will become commonplace in the United States.  And while "fact-checkers" routinely stomp out rumors, it is important to realize that the CDC is "authorized to detain, medically examine, and release persons arriving into the United States and traveling between states who are suspected of carrying these communicable diseases" (emphasis ours).
In addition, there are currently at least 11 U.S. military facilities approved as quarantine bases.
According to USA Today, forced isolation or quarantines are typically enacted by individual states, but the federal government does have the authority to "institute a large-scale quarantine."
Sources for this article include: