SHOCKING: Hundreds of athletes suffer cardiac arrests, blood clots or worse after taking the COVID jab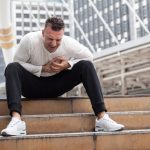 (NaturalHealth365) European countries like Sweden, Germany, France, and Denmark have officially banned Moderna's mRNA COVID shot for people aged 30 and younger.  Why?  Because real-world data suggest, the jab increases the risk of cardiac problems – specifically, heart inflammation known as myocarditis and pericarditis.
While these post-jab heart problems are routinely classified as "rare," myocarditis and pericarditis can be costly to treat, often have long-term effects, and may increase the risk of heart attack by causing blood clots (and they're evidently not so "rare" as European officials are quite concerned about them).
Sadly, we may only be at the tip of the iceberg when it comes to understanding the devastating effects these COVID shots can have.
Tragic cases of heart attack and other cardiac problems in athletes are rolling in from around the world at an unprecedented rate – could the massive COVID shot program be to blame?
The blog Good Sciencing is keeping a running tally of the alarming number of worldwide athletes who have suffered cardiac problems this year, including heart attacks, strokes, blood clots, and cardiac arrhythmias.  The common denominator?  These athletes have reportedly all recently received at least one dose of the COVID shot.
All told, more than 300 athletes have suffered post-jab heart attacks in 2021, and at least 175 have died.  It's not clear how many of these injuries and deaths, if any, have been definitively linked to the COVID shot.  Still, the increasing global rate of cardiac issues among athletes seems too concerning to ignore.
Check out this chart to see a visual representation of what Good Sciencing found: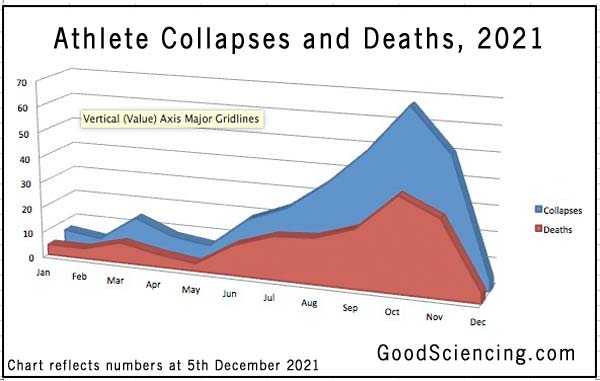 Some professional athletes have even gone public about their season-ending COVID shot injuries, including professional French tennis player Jeremy Chardy and professional American basketball player Brandon Goodwin.
Know the signs of a heart attack: This could save your life
Whether you know someone who's had a COVID shot or simply know someone at risk of a heart attack, it's important to know the early warning signs and symptoms.  The sooner emergency medical care is received, the better the chances a heart attack victim will survive.
That said, the most common signs and symptoms of a heart attack include:
Pain or discomfort in the chest: chest pain is usually felt on the left side or in the center of the chest and can feel like squeezing, fullness, or pressure; it can also come and go
A sense of "impending doom"
Lightheadedness or feeling faint or weak
A cold sweat
Pain in the neck, back, jaw, shoulder, and/or one or both arms
Shortness of breath
Less typical signs and symptoms – which women are more likely than men to experience – include nausea, vomiting, and unexplained fatigue
According to the CDC, about half of Americans have at least one of the three main risk factors for heart attack, including high cholesterol, high blood pressure, or a smoking habit.  Advancing age, family history, and other lifestyle and environmental factors also play a role.
It's worth noting that the idea of medications leading to cardiac problems is not fear-mongering or misinformation but, sadly, a well-documented truth.  Before being withdrawn from the market in 2004, for example, the FDA-approved prescription drug Vioxx (prescribed to treat arthritis) was linked to as many as 140,000 heart attacks in the U.S alone.
Of course, we are now seeing increasing evidence of heart problems in people who have received the Moderna or Pfizer mRNA shot.  Yet, the world continues to be told – by government "health" officials – that these shots are "safe and effective" for all and the "only" way out of this so-called pandemic is to roll up our sleeves and take more and more shots.
Question: What ever happened to improving immune system function with natural medicine.  I guess those "experts" are not interested in successful protocols that do not rely on pharmaceutical drugs.
Sources for this article include:
CDC.gov
News24.com
Reuters.com
Goodsciencing.com
NYTimes.com
Newscientist.com
NPR.org
UCdavis.edu
Peachtreehoops.com