Vax scientist sounds alarm, demands immediate withdrawal of COVID injections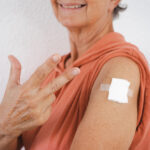 (NaturalHealth365)  Are quadruple-jabbed older adults (quadruple-jabbed = the initial two-dose series of the COVID shot plus two booster doses) facing higher rates of death because of the gene-based drugs injected into their bodies?
One vaccinologist believes so, at least in his home country of the Netherlands.  Let's take a look at the official data he's citing to argue that these endless mRNA jabs are far more harmful than helpful for a significant number of individuals exposed to them.
Experienced vaccinologist says post-jab deaths among older adults rising significantly in the Netherlands – could this become a global trend?
Dr. Theo Schetters is a highly respected, accredited, internationally recognized vaccinologist, vax developer and researcher, and academic professor.  Among his impressive accolades from his 40-year career, Dr. Schetters is the recipient of the Medal of Honour of the Faculty of Pharmacy at the University of Montpellier in France.
In a recent interview on the De Nieuwe Wereld Podcast with host Marlies Dekkers and fellow vax expert Dr. Robert Malone, Dr. Schetters outlines some of his main concerns with the current COVID jabs, particularly for individuals older than 60.
In the Netherlands, he says, official data from the country's Department of Health show that multiple doses of these shots (specifically, two primary doses plus two boosters) are increasing the rates of all-cause mortality among 60+-year-old individuals.  In fact, he says, the data are now "very clear that there is a good correlation between the number of vaccinations that are given to people and the number of people that die within a week after that.  So let's say this week we gave 10,000 vaccinations.  Then this week, we have something like 125 [excess deaths] in that week."
In other words, when more vaxxes are given in a week, there will be more excess deaths occurring in that same week, and vice versa (when fewer vaxxes are given in a week, there will be fewer excess deaths occurring in that same week).  According to his "rough calculation," Dr. Schetters says, the data suggests "one in 800" doses of COVID shots result in death. He says he has urged the Netherlands public health officials to "reconsider vaccination strategy, because I think this is a real warning."
How big of a pattern or trend do public officials need to see in the COVID shot data before sounding the alarm?
In addition to concerning all-cause mortality trends, Dr. Schetter points out that it's becoming more and more difficult for doctors to tease out whether negative health outcomes among their patients are caused by the shots.
Because the mRNA jab "potentially affects all organs," Dr. Schetter says medical providers are now seeing "all sorts of symptoms [among their vaxxed patients] that they do not know what it is."  And "because the adverse effects are so not just one single adverse effect, but can be anything," Dr. Schetter notes that it's difficult to pull apart the statistical significance.
Understanding that correlation is not sufficient to prove causation, we ask: just how much correlation in the data do officials need before they acknowledge that something might be seriously wrong that warrants further investigation?
Sources for this article include: