NH365 051: Calcium myths – The hoax surrounding osteoporosis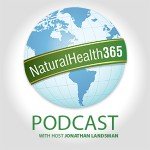 (NaturalHealth365) According to the Centers for Disease Control, 'more than half of American adults take some kind of dietary supplements.' The latest statistics reveal that calcium supplements (alone) total over $177 million per year! But, are we healthier because of all these pills?
Today, on the NaturalHealth365 Podcast, we'll focus our attention on the topic of bone health, the value (and danger) of calcium supplementation and, most importantly, what we can do to really improve bone health – so that we don't have to become a victim of osteoporosis.
Stop and think: Medical doctor issues urgent message about the dangers of calcium supplements
According to my special guest today, "recent scientific studies now provide overwhelming proof that unequivocally confirms what many non-mainstream healthcare practitioners have long known and asserted: The regular intake of dairy and calcium supplementation promotes all known chronic degenerative diseases, and it significantly shortens life."
Editor's note: It's my humble opinion that the real problem with dairy products is found inside the conventional processing methods used today – such as, injecting synthetic hormones and antibiotics into the animals (that live in horrible conditions); the GMO food fed to these animals to produce all these dairy products plus many other unhealthy practices of conventional food producers.
Links related to the show:
For more information about Thomas E. Levy, MD, JD – visit: PeakEnergy.com or his featured articles published on NaturalHealth365.
To discover the BEST way to supplement with vitamin C – read all about the "Multi-C protocol".
The NaturalHealth365 Store offers the finest quality vitamin C powder on the market.  Order today!
For a high-quality liposomal vitamin C – check out: LivOn Labs
Subscribe to the NaturalHealth365 newsletter to receive our FREE shows, lots of great health gifts + the latest news and information on natural health solutions.
Program highights:
Is all calcium 'bad' for us? (We clear up the confusion)
The public is waking up to the dangers of most commercially-sold calcium supplements. (Find out what's going on)
Why most doctors remain 'in the dark' about nutritional supplements. (A refreshing perspective from a medical doctor)
A revealing look a the true cause of osteoporosis. (This will surprise most people)
Great ways to prevent osteoporosis. (Discover the "Big Four" supplements to take)
An urgent message about toxins. (Vital information for everyone!)