NH365 067: Spiritual growth – Discovering the key to happiness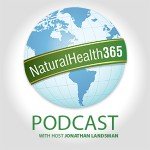 (NaturalHealth365) For many people, happiness appears to be an elusive concept. In fact, very often, we see that more money, a family or even religious practices don't seem to help people feel better about themselves or their circumstances. But, what if there was a way to truly experience happiness – every day of our lives.
Today, on the NaturalHealth365 Podcast, I'll introduce you to a very special guest – who has dedicated his life to helping others expand their awareness through the practice of meditation. With sound and chanting, this deeply spiritual practice of meditation is the foundation for successfully achieving balance in our thoughts and feelings.
I'll admit, I've had my fair share of craziness and imbalance in my life … but, without a doubt, my daily meditation practice is one of the best things I do – every day – to maintain optimal health. So, let's explore the true meaning of meditation; the connection between our breath and brain function; an amazing discussion about chakras and microchakras plus much more!
Links related to the show:
For more information about Shamji Bhatnagar – visit: ChakraInstitute.com
Click here to purchase Shamji's book: Microchakras: InnerTuning for Psychological Well-being
Subscribe to the NaturalHealth365 newsletter to receive our FREE shows, lots of great health gifts + the latest news and information on natural health solutions.
Podcast highlights include:
The biggest mistake taught about meditation
The purest purpose and most valuable reason to meditate
The best answer you'll ever hear about the true meaning of "spiritual growth"
A brilliant way of seeing why so many people suffer living in the 'modern' world – especially inside the United States
A revealing look at the most valuable gland of the human body
The difference between a religious and spiritual experience
Why man created religion (really interesting part of the show)
A great explanation of all the chakras and how they influence / control our life
Plus, much more!