Sproutman Steve Meyerowitz dies in head on car crash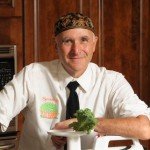 (NaturalHealth365) It is with great sadness that I report on the death of my good friend, 'Sproutman' Steve Meyerowitz. On Wednesday, Sept. 9th (at around 7:30 p.m.), Steve was driving his Volkswagen Beetle on US Route 7 in Falls Village, Connecticut – just minutes away from home – when he collided (head on) with a Nissan Titan pickup truck. Steve was pronounced dead shortly after arriving at Sharon Hospital.
Roger St. Pierre, the man driving the Nissan pickup truck, was sent to Sharon Hospital (first), but got moved to Hartford Hospital for 'possible internal injuries.' Police say that both drivers were wearing seat belts; airbags did deploy, but both vehicles were severely damaged. A hospital spokesman said on Friday (September 11) that St. Pierre was listed in critical condition and the accident is still under investigation – as far as we know at this point.
Jonathan Landsman expresses his LOVE for 'Sproutman' Steve Meyerowitz
Steve's legacy must not be forgotten. After speaking to one of Steve's sons, Noah – I've been assured that all of Steve's work will not be minimized to a distant memory. For over 40 years, Steve taught the world about the health benefits of juicing, eating sprouts and living a healthy lifestyle. Thankfully, and with my full support, Noah (along with his brother Ari) plan to continue the business that Steve created out of his love for humanity.
Exclusive video: Sproutman Steve reveals the healing power of sprouts
About a year and half ago, I had the pleasure of producing "Sprout Health", an exclusive video for NatutralHealth365 INNER CIRCLE subscribers and, today, I felt compelled to release this program to the general public.
Steve was a warmhearted, compassionate and intelligent man – who dedicated his life to helping others live disease-free. Enjoy this video and please share it with your family and friends.
Steve's final words of advice, toward the end of the program, were so perfect – I thought I would share them with you here, when he said:
"If we want to recharge our battery, for better healing, we've got to stick with living foods."
On a personal note: I just smile every time I see Steve and I fighting over the bag of radish sprouts at the end of the video. Both of us were so hungry to eat those sprouts! 🙂
What will happen to Sproutman® (the company) and all of Steve's work?
As I said earlier, Noah and Ari will continue to run the business and vow to never let people forget the incredible work their father. Steve's message of healthy living and love must continue to survive – especially when you consider the threats posed by this toxic world.
Sproutman® remains the leading promoter, publisher, manufacturer and distributor of high quality, specially selected natural products for diet, health and wellness. Steve founded the company in New York City in 1977. He invented the fabric sprout bag, the "Sprout House" grower, and the interactive color sprout chart.
From the beginning, Sproutman® has been an innovator of high quality sprout-specific seeds and uniquely designed home sprouters. But, Steve did so much more than just invent a sprout machine. Sproutman® offers many products and services – all designed to help improve someone's health and wellness.
The company motto is crystal clear: "Reclaim your health." And, so, his family will continue to promote Steve's work – which is firmly grounded in the understanding that our health is our most precious asset.
For those remembering Steve from the 1990s, check out his vintage commercial for the "Sprout House:"
Take your health to the next level
and show your loving support for Steve's family –
visit: Sproutman.com and reclaim your health today
. I'm sure his family will appreciate your support and would love to help you in return.
Steve leaves behind his wife, Beth Robbins and three children, Gabrielle, Ari and Noah. From all of your friends at NaturalHealth365 – rest in peace Steve. (We love you)
About the author: Jonathan Landsman is the host of NaturalHealth365.com, the NaturalNews Talk Hour – a free, weekly health show and the NaturalHealth365 INNER CIRCLE – a monthly subscription to the brightest minds in natural health and healing.
Reaching hundreds of thousands of people, worldwide, as a personal health consultant, writer and radio talk show host – Jonathan has been educating the public on the health benefits of an organic (non-GMO) diet along with high-quality supplementation and healthy lifestyle habits including exercise and meditation.