The health-promoting properties of pumpkin seeds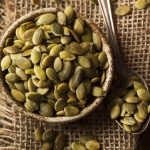 (NaturalHealth365)  Searching for more delicious ways to add minerals and essential fatty acids to your diet?  Discover the awesome health benefits of pumpkin seeds (a simple way to improve your health.)
This potent superfood boasts hard-to-get, essential minerals such as zinc, manganese, and magnesium plus has been studied for its powerful effects against urogenital issues, heart disease, and osteoporosis.
Slash your risk of cardiovascular disease with essential fats found in pumpkin seeds
I still see surprised looks when I suggest that fat is a major player in the game against cardiovascular disease.  Yet, study after study continues to show the vast benefits fats elicit on heart health.
Pumpkin seeds contain linolenic acid, an important essential fat known to reduce heart attack risk.  In addition, pumpkin seeds contain one of the highest levels of phytosterols among other nuts and seeds.  And, these phytosterols have been shown to prevent the absorption of unwanted (excessive) cholesterol in the small intestine.
What may make pumpkin seeds such an ideal cardiovascular superfood is their effects on LDL and HDL cholesterol levels.  In another study, pumpkin seeds helped raise levels of high-density lipids while lowering blood pressure to a healthy range.  Participants experiencing menopausal symptoms were studied – at the end of the study – and researchers found that women experienced less overall inflammation.
A healthy snack to slow down an overactive bladder
According to a study published in the Journal of Traditional Complementary Medicine, more pumpkin seed oil in your diet may slow an overactive bladder.  As we age, bladder function is known to decline.
The study results suggested that pumpkin seeds, because of their widespread availability in North America, could be viably used as an inexpensive and nutritious method of self-medication in those attempting to treat overactive bladder.
Are you concerned about osteoporosis?  Then, pumpkin seeds can be part of the solution.
The benefits of pumpkin seeds are well known due to their essential bone-building minerals magnesium, phosphorus, manganese, and zinc.  Unfortunately, most of us associate osteoporosis as a post-menopausal disease affecting women only, while one in eight hip fractures actually happens to men over age 50.
Strong correlations have been found between these mineral deficiencies and fracture rates.  So, a diet rich in pumpkin seeds can help create an alkaline environment favorable to increasing bone density.
The best ways to get pumpkin seeds into the diet
Perfect to sprinkle on salads, on top of fish or veggies such as asparagus, romanesco, and green beans or eat by the handful, pumpkin seeds – when eaten several times per week – are an ideal addition to your superfood regime.  Here's my favorite pumpkin seed recipe:
Italian herb-crusted pumpkin seeds
Ingredients:
1 cup pumpkin seeds
1/2 tsp pumpkin seed oil
1 Tsp rosemary
1 tsp oregano
1 tsp marjoram
1 tsp minced garlic
Method:
1.  Place oil, then seeds in a bowl.
2.  Next, combine herbs, stir, and cover for about an hour to allow herbs to "marinate" the seeds.
That's it!  Looking for a healthy snack for 2022?  Try adding pumpkin seeds to your diet and enjoy!
Sources for this article include: